18-party extends support to Islamists' demand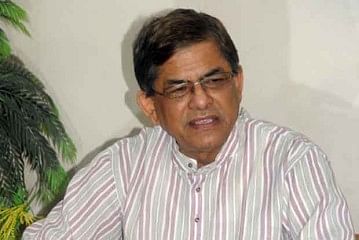 Mirza Fakhrul Islam Alamgir
The BNP-led 18-party alliance has extended its 'full moral support' to the demands of Islamic scholars for stopping disrespectful campaign against Islam and Prophet Muhammad [pbuh].
"The alem-ulamas are concerned about the anti-Islamic blogging. They demand the government take legal action against those bloggers.
We extend full moral support to their valid demands," said BNP acting secretary general Mirza Fakhrul Islam Alamgir.
He was briefing newsmen at the party's central office in the city's Nayapaltan at the end of Tuesday's nationwide hartal.
The BNP spokesman, however, remained coy while facing queries whether the opposition alliance would give support to Hefajat-e Islami's long march to Dhaka on April 6.
He also accused the government of creating a volatile situation by letting loose anti-Islamic bloggers. Fakhrul has also raised questions over the arrests of three bloggers.
He expressed his skepticism as to whether the arrestees were the 'key offenders'.
"We do not know whether the arrests were eyewash to deal with the ongoing political situation," Fakhrul added.
He came up with the observation after police arrested three persons for posting 'derogatory contents about Islam and Prophet (pbuh)' to different Internet platforms.
A Dhaka University student was among the three arrested from different parts of the city.