BTRC moves to discipline internet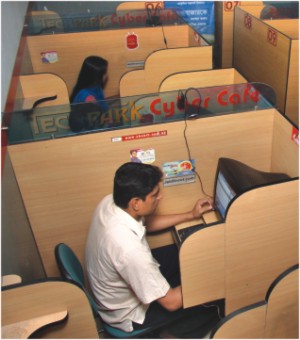 The telecom watchdog has decided to keep tabs on internet service providers to see whether they are reducing prices in line with a significant cut in bandwidth charges.
The Bangladesh Telecommunication Regulatory Commission (BTRC) has also moved to make a guideline, aiming to discipline the internet market at retail level.
"We cut wholesale bandwidth prices to take internet services to the mass at affordable costs," said a BTRC official. "We are now going to monitor the internet service providers, starting next month at retail level to ensure minimum standards of service to customers."
The fact that internet bandwidth prices have not been reduced at retail level was repeatedly pointed out by stakeholders. "At the same time, we have received complaints from customers about missing out on expected internet speed."
Internet bandwidth rates were cut three times over the last year to Tk 18,000 per mbps (Mbps (megabits per second) from Tk 80,000.
The internet market in Bangladesh flourished mainly with the introduction of low-cost internet devices by mobile phone operators. According to BTRC, the internet penetration rate in the country widened to 4 percent from a mere 0.4 percent three years ago.
According to internet service providers, around 4.5 million customers now enjoy internet services, of which 90 percent are connected through the mobile phone operators' wireless modems. The six mobile operators have 46 million mobile customers, according to statistics updated until the end of June 2009.
In the market of more than 200 local internet service providers, Citycell and Grameenphone are the market leaders. The monthly price based on bandwidth ranges between Tk 300 to Tk 850.
In some cases, customer are still paying what they used to pay when bandwidth price was more than one lakh per Mbps, the BTRC official said. "A minimum standard must be followed by operators as customers do not always monitor internet speed."
The country was linked to a submarine cable in 2006 at a cost of $35.1 million. The SMW-4 cable has a capacity to handle a 120 Gb bandwidth, of which Bangladesh currently subscribes to 24.12 Gb. The country uses 23 percent of its capacity domestically. Bangladesh Submarine Cable Company Ltd (BSCCL) handles the lone submarine cable.
Bandwidth users also feel the need to set up minimum internet service standards, as prices are now within relatively easy reach.
"It should be monitored to ensure a minimum level of quality," said Habibullah N Karim, president of Bangladesh Association of Software and Information Services. The leading software maker also said a minimum uninterrupted internet speed is needed for getting better output of information technology services.
Wireless internet by mobile phone operators has become a craze among the youth, especially university and college going students. But fluctuating speeds often disappoint them and compel them to switch operators.
In addition to the availability of low-priced computers in the market, the price of wireless mobile phone modems cost Tk 3,000 to Tk 4,500, encouraging the youth to log on.
Mahfuzul Haque, a student of Asian University, said frequent disruptions to the internet are frustrating, although he has one of the best internet packages in the market.
"I don't understand where the problem is. Is it my laptop or the internet connection?" he said. "I don't have the speed I pay for."
The BTRC official said internet service providers would be asked to justify the bandwidth they provide, in line with the prices they charge.
Akhtaruzzaman Manju, president of Internet Service Providers Association Bangladesh, welcomed BTRC's move. However, he suggested that such monitoring should be based on the operators' cost of doing business.
"Bandwidth price reduction should not be the only consideration, as they have to bear other costs to provide the services to the end consumers," he said.
"Corresponding to BTRC's expectations, we recently lowered our internet package rates proactively to as low as Tk 300. This was done with an expectation that bandwidth price would be reduced by the government. We are pleased that the government has reduced bandwidth rates," said Rubaba Dowla, chief communication officer of the country's largest mobile operator Grameenphone.