Fire and the garment factory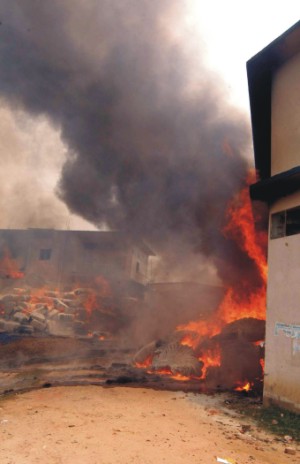 A. Background:
1. Many garment factory owners have taken lessons from fire-related incidents in earnest but some have not
2.Contrary to its rapid growth, safety record has been poor.
3.Consequences have been tragic and alarming.
B. General conditions, still prevalent in many units
1.congested, non-ventilated, ill-lit, hot and humid
2. escape route are crammed with work-tops and combustible materials
3. improper wiring and electrical design, illegal connections
4. careless smoking and heating habits
C. Hazard is multiplied in garment factories because
1.factories are located in multi-storied buildings, often with one narrow staircase, and an untested so-called 'fire stair' attached to a peripheral building wall
2. narrow exits are locked OR only about 18 inches of doorway/collapsible gate is kept open.
3. other doors, even if available, are kept permanently closed by the management for the following reasons:
a. such doors are "not required" (according to them) for entry and exit
b. less number of gatekeepers need to be employed
c. closing some doors can create spaces in corridors and elsewhere, which can be used for various other purposes, such as storage, workspace, etc.
4. machine layout compels workers to travel round machine lines to reach the exit thereby exceeding travel distance beyond the safe limits of 30-45 meters
5. large illiterate working force is without any fire training or drill
6. no trained personnel to take charge and dispel panic during emergencies
7. building has been subjected to unauthorised change
8. waste products are not disposed off properly
9. adequate fire-fighting equipment is not provided and
10. water is forever scarce.
D. Why workers have died in factory fires?
1. Unable to escape to a place of safety
2. Ensuing panic propelled stampede
3. Escapees were trampled to death
4. Initially overcome by smoke and noxious gases, succumbing primarily due to lack of oxygen.
E. Factors responsible for deaths in garment factories:
1. Ineffective implementation of inadequate legislation
2. Improper building plan
3. Unauthorised change in building use
4. Provision of single operational staircase
5. Lack of escape routes and hindrance of escape by congestion and sealed exits
6. Security measures driven to extremes, causing safety hazards
7. Improper waste disposal and lack of maintenance
8. Use of combustible materials for finish and interior works
9. Carelessness smoking habits
10. Improper use of heat appliances
11. Improper installation and operation of electrical connections and equipment
12. Poor or no maintenance of electrical installations
13. Lack of emergency training and drill involving employees
14. Want of adequate detection and alarm systems
15. Lack of appropriate notices, signs and symbols
16. Inaccessibility into the buildings to fight the fire
17. general lack of awareness regarding the dangers of fire
F. Accident follow-up
Once ignited, fire inside a garment factory may reach the unmanageable magnitude of an inferno because of the following reasons:
1. Large single volume
2. Excessive Fire Load due to presence of highly combustible materials
3. Assembly of people, ignorant about behaviour during a fire, who will panic because of no prior drill
4. Movement of people in dark, concealed space in case of power cut
5. Absence of or inadequate Means of Escape
G. Fire-fighting hampered
Shrieking people in a state of panic will raise the alarm. But, efficient fire fighting will be hampered due to the following:
1. No trained in-house personnel to take action and/or charge in case of fire or any other emergency
2. Lack or absence of fire fighting apparatus
3. Out-dated, ill-maintained and inappropriate extinguishers
4. Trained personnel to operate extinguishers may not be available.
5. Lack of water in the vicinity
H. More trouble in multi-storied garment factories:
Fire hazard intensifies in garment factories located in high-rise buildings because of:
1. Increased use of electrical and mechanical equipment
2. Stack effect in ventilated tall buildings
3. Spread of fire through external windows
4. Increased difficulty to escape a fire
5. Rescue operation becomes more arduous
6. Spraying water becomes a major plumbing issue
I. Role of Fire Services
1. Fire Services should not be relied upon to save lives in case of fire.
2. Fire control design should not assume dependence on Fire Services.
3. Fire engines may find it difficult
a) to reach a factory building in time through traffic congestion
b) to locate the address of an affected factory
4. Efficiency of the Fire Services may further be impeded by
a) shortage of water in the vicinity,
b) their inability to reach their equipment to the place of occurrence,
c) panic-stricken people/ aggrieved public hindering its activities
J. What to do?
Planning permission should be sought from Rajdhani Unnayan Katripakhya (RAJUK) and local building authorities before commencement of construction and for any alteration and addition even after the commissioning of the building.
In view of the obvious shortcomings in the probable control measures, stress should be on preventive and precautionary measures.
K. Design for fire safety
Emphasis at the design stage should focus on (list is not exhaustive)
1. Capacity: number of workers will determine number of doors, size of entry/exits
2. Layout: volume per person, aisle width, floor finish and distance to exit should meet standards; congestion should not impede escape.
3. Building and finish materials: determines Fire Load.
4. Emergency Lighting: to make escape possible when power is cut off in a fire
5. Means of Escape: each person should be able to escape to a place of safety unaided within 2.5 minutes of starting a fire.
6. Number and location of fire extinguishers: based on size and organisation of space
7. Sprinkler system: depending on risk, space should have an overhead sprinkler system
8. Early detection and warning systems: Smoke detectors, prerequisite for maximum safety
9. City Traffic: location of the factory, its surroundings, neighbouring land-use, traffic congestion, pattern and behaviour, width and turning radii of roads, over-bridge clearance, etc.
10. Water requirement: availability of water, size of reservoir, type of riser (dry/wet)
11. Assembly Point: place for escapees to assemble so that every person supposed to be in the factory building can be accounted for, drill.
L. Inspection
1. Garment factory buildings should be inspected regularly, perhaps on an annual basis, by Fire Services or any other body specially constituted
2. A building declared 'unsafe' because of non-compliance with fire safety rules should not be allowed to function because this would endanger hundreds of innocent lives.
3. In inspecting existing buildings, emphasis should be laid on the following:
a) Building design, addition and/or alteration: whether any change has been made to the building since it received planning permission, either structurally or with regards to finish materials, number of exits, size of exits, etc.
b) Number of workers: whether number has increased
c) General cleanliness: whether accumulation of rubbish can cause fire by being ignited
d) Functional hazard: whether process and use of any machinery can cause fire
e) Smoking behaviour: whether 'No Smoking' sign is strictly observed, and whether smoking habits are increasing the possibility of a fire
f) New Materials: whether new materials have been included which might have an adverse effect on Fire Load
g) Training of staff: whether staff has been trained to take charge during any emergency, to operate fire-fighting equipment, etc.
h) Fire Drill: whether drills are held at least twice a year in which all the workers and staff takes part.
i) Warning and alarm system: whether installed, operational and understood
j) Fire fighting equipment: whether the condition of extinguisher, sprinkler system, hose reels, etc. meet safety requirements.
k) Means of Escape: whether requisite number of doors and outlets are in operation for timely escape by all workers and staff; whether aisles, corridors, lounge, lobby and foyer are clear of any furniture, material, rubbish, etc.
l) Assembly Point: whether a safe assembly point, sufficient to accommodate all the workers and staff, has been earmarked and displayed as such within safe distance from the factory.
m) Fire Services: whether the telephone number of the Fire Services is known and whether the telephone system is reliable and accessible to the staff during any emergency.
M. Conclusion
In order to ensure good fire safety practice every garment factory should take the following measures:
1. by design restrict the possibility of a fire,
2. take sufficient precautionary measures so that the possibility of a fire starting is minimised
3. ensure by a properly designed Means of Escape that every individual can escape unaided to the open air
4. possess equipment and means of controlling a fire by trained and drilled personnel.
The author is Professor, Dept of Architecture, BUET, Dhaka, where he conducts a postgraduate course on 'Safety & Security in Building'