The nature of human identity
Zarin Rafiuddin is charmed by a post-apocalyptic tale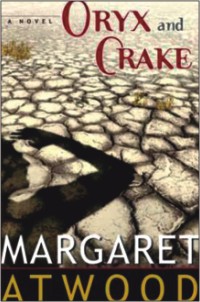 IMAGINE that you are the last remaining human in the world. What would you do? How can you survive? How can you stop yourself from going insane? How would you keep moving forward? What keeps you moving forward?
These are the questions that occupy the mind of Snowman. Snowman is actually Jimmy but that name has faded away with the rest of humanity. Now, Jimmy is surrounded by the remnants of what was once human civilization. The post-apocalyptic world is now the abode of strange creatures, both dangerous and fascinating. Among these creatures are the creations of a man named Crake. Thus they are given the name Crakers. The Crakers see Snowman as their messiah a person who will teach them about the world. In the gaps of sleeping and wakefulness Snowman does the only thing a person enforced into exile is capable of doing: to be nostalgic. He reminiscences about the world around him: how it died and how it was once dying. In these ventures into the past the most precious memory is of the woman simply called Oryx; it is she who makes him sorrowful of things that could have happened.
Intricate and realistic, Margaret Atwood explores the post-apocalyptic dimension in her novel Oryx and Crake. From the view of the sole survivor Jimmy, also known as Snowman, we see the horrors the world is faced with after humanity has died out. Snowman is an ordinary person, by ideal human perspective, unlike his opposite Crake, who is a genius recognized by those around him. Snowman gets the job of teaching the Crakers things but he cannot be completely honest with them because it is both difficult to him and also quite outmoded to the current situation of the world. His everyday life is a struggle but not always for basic survival but also to survive his mental anxieties.
Atwood creates a post-apocalyptic world that houses humanity's perversities meaning humans tampering with nature. Human artifacts that remain are also creatures like the Crakers, created by human beings but after their extinction have become masters of the planet, in the sense that they have run amok. In this wasteland of memories and emotions Snowman remembers, but the heartache of remembrance is that his identity does not matter anymore. He has been given the role of messiah which he himself did not choose.
The book deals with human morals and the progress of science, with the question: Are human beings truly blessed into pioneering such great feats as cloning and creation? The dichotomous nature of human beings is brought out by their avarice at making things more "perfect" though the idea of perfection is actually apocalyptic itself. The introduction of Crake is quite useful and great for he is Jimmy's antithesis. While Jimmy is emotive, Crake is monotonous; while Jimmy is sensuous, Crake is platonic and while Jimmy has some grand philosophical insight, Crake is quite separated from the world. It is these differences that help us to know what is more important in life.
The greatest symbol in the novel is the woman called Oryx. She is the element of practicality amalgamating with Enigma a complete life and death hybrid. She has a profound effect on our protagonist and surely she influences him in many of his choices. It is prominent in the novel that she is a mask of both obscurity and reality: what society expects from the ideal woman. But Atwood's question is this: Is it really helpful to be this way? The book answers this in multiple ways.
As a novel, Oryx and Crake is entertaining, suspenseful and philosophical. The novel questions society's outlook on beauty, genius and morality; it also questions the nature of human identity, human desire and the human satisfaction in attempting to create an Eden on Earth. The whole book is voluminous in its great portrayal of human conflict, friendship and love. If you want to immerse yourself in a world that has changed and wish to learn about how we look at things, this novel is something you should not miss.
Zarin Rafiuddin is a student of English literature at BRAC University.