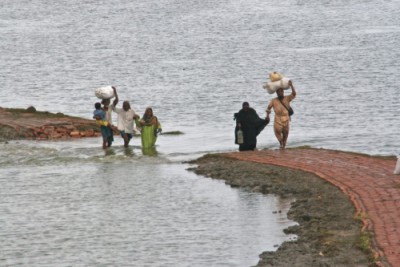 Cyclone Aila has proved yet again how ill-prepared we are. It's either that, or we really need to wake up as should those who call the shots. "Being aware" and "being prepared" is one thing both of which we grossly lack, obviously. Add to that "down-playing" the situation - as did the Minister of Food and Disaster Management when (according to a report in The Daily Star of 28 May 2009 under the caption "Over 1,100 missing in Bagerhat, Bhola") the day after the cyclone he declared that the death toll would not cross 100 confidently adding that there might be only 10 or 12 people missing!
Now the numbers don't match up! In a country where communication with the backwaters is grossly lacking, he should have waited for more accurate numbers.
Dr. C. Zaman
Ottawa, Canada
***
Now it is going to be a week after the cyclone Aila hit the coast of Bangladesh. Hundreds of people died, thousands are injured and homeless. People are dying from diarrhoea and other waterborne diseases. The situation is almost like the previous SIDR. Thousands of people need immediate relief. But we don't see any relief activities from not only the govt. but also other sectors. The army is working there but they alone cannot handle the situation. People from all over the country should come forward. Business enterprises should shoulder their corporate social responsibility by helping them. The govt. should have declared an emergency.
The relief operations have to be accelerated before more people die.