Aila toll leaps to 121
Economic loss understood to be huge; thousands still marooned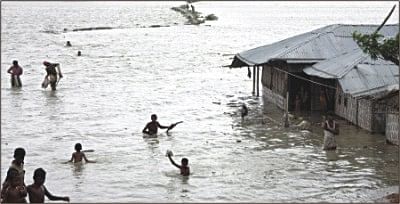 The death toll from Cyclone Aila rose to 121 yesterday, as thousands of people marooned in the coastal areas were battling to survive the aftermath with little food and drinking water.
The storm that ripped through the south-western coast Monday has left at least 32 people killed in Satkhira, 25 in Noakhali, 20 in Khulna, 13 in Bhola, nine in Barisal, seven in Patuakhali, six in Laxmipur, two each in Bagerhat and Cox's Bazar, and one in Magura, according to reports from the affected areas.
Besides, two persons in Chapainawabganj and one each in Natore and Lalmonirhat are among the Aila fatalities, news agency UNB adds.
The food and disaster management ministry however puts the body count at 91.
Our correspondents reported that tidal waves churned by strong winds have inundated vast swathes of land.
Heavy rains coupled with gales flattened huge tracts of standing crops and washed away numerous fisheries.
They also caused extensive damage to embankments and levees in the coastal districts.
More than 800 people have been wounded and at least 58,450 domestic animals killed, according to the disaster management ministry.
The government has deployed army and navy to help local administration and non-government organisations in rescue and relief operations. Five navy ships have been working to bring people stranded in offshore islands to safety.
Food Minister Abdur Razzak yesterday visited different cyclone-hit areas in Bhola, Patuakhali, and Khulna. He distributed relief among the locals at Panpatti village under Galachipa upazila in Patuakhali district.
Later, briefing reporters in the capital, he said water crisis seems to be the main problem in the coastal areas. Some 278 water purification machines of the army are in operation to deal with the shortage of safe drinking water.
Razzak said the cyclone has affected at least 30 lakh people.
Deputy commissioners, upazila nirbahi officers, upazila chairmen and vice-chairmen are carrying out relief work in 14 districts.
The administration will distribute rice among the victims through VGF cards. It has an adequate stock of rice at every upazila. Already 2,500 tonnes of rice and Tk 1.23 crore in cash have been sent to the local administration for distribution, he added.
The government will not seek aids from the international community as long as it can tackle the situation on its own. "We will however consider if anyone offers any relief or assistance."
Local officials said several lakh people were still stuck in remote chars. Many took refuge on treetops and roofs of their submerged houses.
The Red Crescent Society in its report yesterday said over 33 lakh people in eight districts were affected by the cyclone. Around 1 lakh were taken to safe shelters under an evacuation campaign by volunteers and law enforcement agencies, BSS adds.
Our Barisal correspondent reports: In Barisal division, Bhola appears to have borne the worst of the cyclone.
Road and water communications between seven upazilas in the district have been snapped for two days now.
Local sources said Aila has destroyed thousands of hectares of crops including Aus, Aman and Boro rice, and vegetables.
Manpura flood control embankment has been breached at many points. Strong current has carried away a 10-km stretch of the dam, and onrushing tide levelled hundreds of homes.
People in the remote flood-affected areas were suffering from an acute shortage of drinking water.
Our staff correspondent from Khulna reports: At 5:00pm yesterday, the death count in the cyclonic storm stood at 22, according to official sources.
Of the dead, 20 were in Khulna district and the other two, women, in Bagerhat district.
The storm and tidal surge have destroyed almost 80 percent of the forest camps in Chandpai and Sharankhola ranges, said Mihir Kumar, divisional forest officer in charge of the Sundarbans east wing.
According to Khulna district control room, Aila has left around 30,000 houses in ruins. The number could be even higher once a full assessment is done.
Unofficial sources said over three lakh people in Khulna and Bagerhat districts have remained marooned as of filing this report at 7:00pm.
At least 90 percent of shrimp enclosures and flood control dams in Khulna and Bagerhat districts have been washed away.
Cargo handling at Mongla Port, which was suspended on Sunday night, resumed yesterday morning.
Our correspondent from Satkhira said at least 32 people including children were killed in Cyclone Aila. Shyamnagar and Assassuni upazilas were the worst affected.
At least 90 percent of thatched houses and mud huts have been demolished by Aila-fed tidal surge, forcing thousands of people to take shelter in nearby buildings and cyclone centres.
Those in cyclone shelters were passing hard times for scarcity of food, drinking water and medicines. The local administration was yet to launch any relief efforts.
Meanwhile, fears of an outbreak of diarrhoea and other water-borne diseases were growing.
Our Patuakhali correspondent reports: The number of people affected in Cyclone Aila is over 11.50 lakh. Around 400 km flood control embankment and 75 km roads of LGED have been damaged.
The district had at least 30,000 hectares of crops including Aus damaged in the storm.
Our Gopalganj correspondent said hundreds of mud houses were knocked down and trees uprooted during the cyclone on Monday.
The affected areas had been without electricity for over 24 hours. Land phone connections and mobile network were yet to start functioning.
According to government figures, 352 unions and 62 upazilas in 14 districts--Barisal, Bhola, Pirojpur, Patuakhali, Barguna, Jhalakathi, Khulna, Bagerhat, Satkhira, Chittagong, Cox's Bazar, Laxmipur, Feni and Noakhali--have been affected.
Crops on 68,385 acres of land have been damaged completely and those on 2,39,212 acres partially. A total of 42,038 houses have been flattened and 1,98,823 damaged. Of the roads in the 14 districts, 258.5 km have been too battered to be used.
Besides, 509 km embankments have been wrecked and 2,155 km damaged.
EXAMS POSTPONED
The HSC and equivalent examinations scheduled for the next two days have been postponed in nine upazilas--Ashashuni and Shamnagar of Satkhira, Koira, Paikgacha, Botiaghata, Dumuria and Dakop of Khulna, and Mongla and Rampal of Bagerhat district.
Jessore Board Controller Amirul Islam told The Daily Star that dates for these examinations would be announced later.