Discussion on Int'l Day For Elimination of Racism
Call to formulate law to end discrimination against Dalits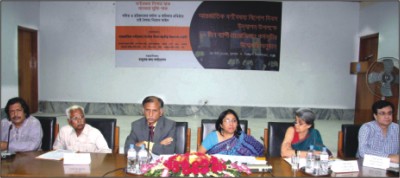 Soud Sarder, a leader of the Bede community in Manikganj, lives in a tent measuring 14 by 6 feet along with his family on the bank of the Louhajang river.
As this community does not have a place to make their permanent homes, its members have to move from one place to another very often whenever the locals want them to go away.
Traditionally Bedes live on boats. But as their boats have been damaged and they could not afford to repair them because of financial constraints, Soud Sarder and his community members tried to settle down on Khas lands but failed. They even cannot fight legally as they are not permanent residents of any area.
The Bedes living in Manikganj are deprived of fundamental rights to land, treatment and education, Soud Sarder said while elaborating the plight of his community at a discussion yesterday.
The National Committee to Celebrate the International Day for the Elimination of Racial Discrimination organised the discussion at Cirdap auditorium in the city as part of its 10-day programmes marking the day.
A total of 15 NGOs in association with Manusher Jonno Foundation have arranged the programmes, which will continue up to March 27 covering different districts.
Like Soud Sarder, there are 55 lakh people in the country who belong to various small communities and are considered either Dalit or Harijan or Antyaj. They are socially oppressed and marignalised.
The Dalit community comprises people from small communities, who are known as untouchables in society, such as Rabidas, Rishi, Shabdakor, Behara, Kaora, Joldas, Nikari, Hajam, Dhopa and Manta.
Speakers at the discussion placed a 14-point demand for elimination of racism against these communities.
The demands include ensuring fundamental and human rights of Dalits; formulating a law to eliminate racial discrimination against them; setting up special cells for Dalits and women at the National Human Rights Commission and the ministry for women and children respectively; and framing a national development policy to include Dalits in the mainstream development programme.
Other demands are introduction of quota in educational institutions and the service sector for Dalits, allotment of Khas land for them, bringing them under safety net programme, ensuring free movement of Dalit people in hotels, restaurants and salons, ensuring their participation in social activities and enrolling them in the national census list with their full identity.
"We are yet to build a democratic society. Racism will be eliminated once a democratic society is established. We have to pledge that we will build a democratic society and ensure rights of every human being," said Dhaka University Vice Chancellor AAMS Arefin Siddique while inaugurating the 10-day programme.
"Only rice and clothing cannot satisfy people. They want dignity. It must be ensured that every human being has dignity," said Executive Director of Manusher Jonno Foundation Shaheen Anam.
Abed Khan, former editor of the Shamakal, called on the deprived people to come forward to establish their rights.
Renowned human rights activist Dr Hameeda Hossain, Prof Borhan Uddin Khan Jahangir and Meghna Guho Thakurota also spoke at the discussion moderated by Prof Mesbah Kamal.