Handcuffed JMB man blasts grenade at press meet
Cops, journos among 13 hurt in the attack at Gazipur SP office; Feb 21 attack plot suspected; grenades, bomb-making materials seized; 7 militants held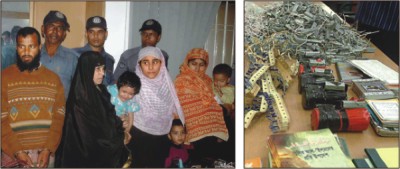 A Jama'atul Mujahideen Bangladesh (JMB) operative in handcuffs exploded an improvised grenade at the police superintendent's office in Gazipur yesterday, injuring at least a dozen people, mostly policemen and journalists.
The blast took place at around 4:30pm as four cadres of the banned Islamist outfit, three of them women, were being paraded before the media.
Superintendent of Police in Gazipur Abdul Baten said Mamun alias Zahid, the male arrestee, flung himself on the seized grenades on display and managed to pull the pin out of one. And in a split second, he hurled the grenade at the police and journalists there.
Around six hours back, police captured the four and recovered five grenades and a cache of bomb-making materials at a village in Tongi.
Besides the militant, nine policemen and three journalists were injured in the explosion that had the hallmarks of a suicide attempt.
The wounded cops include Officer-in-Charge (OC) of Joydevpur Police Station Abdur Rashid, OC Abdul Hanif of Detective Branch in Gazipur, sub-inspectors (SI) Omar Faruq and Alam Chand of Tongi Police Station, Special Branch SI Mamun, SI Delwar Hossain, constables Sajib, Neyamat and Latif and the newsmen are Nasir Uddin of ntv, Fazlul Huq Morol of channel i and local journalist Dablu Rahman.
They were first rushed to Gazipur Sadar Hospital. But as their condition worsened, six of them were taken to the Combined Military Hospital (CMH) and two to Pongu (orthopaedics) Hospital in the capital.
The Gazipur SP said they believe the JMB cadres were preparing to attack programmes of International Mother Language Day in the capital today.
Meanwhile, a Rapid Action Battalion (Rab) team arrested three more members of the militant group in raids at Konabari and Uttarkhan of Tongi in the afternoon. They also seized two grenades and CDs and books on jihad.
Police sources said with help from locals, Tongi police caught JMB ehsar (full-time member) Mamunur Rashid alias Zahid, 40, at Ghartoil village at around 10:30am.
Minutes later, they raided a rented house and arrested the female members--Mina, 45, Marzia, 25, and Noor Jahan, 32. They also recovered explosive substances and books on jihad.
Police took the arrestees and seized materials to the SP office for the press briefing at around 4:00pm. They said at least 500 bombs could be made of what has been recovered.
Eyewitnesses said the grenade exploded with a huge bang, and those present at the scene were pitched onto the floor on impact.
Sources said the Rab personnel had been trying to nab the JMB men for the last 15 days.
On December 18, they conducted a swoop at Ghartoil. They gave their phone numbers to the villagers and requested them to inform them the moment they see Mamun around.
Then, early morning yesterday, a local spotted Mamun, and called the Rab numbers. But as the elite crime busters did not respond, he contacted the Tongi police.
Soon, a team led by SI Sirajul Islam went to the village. As Mamun saw them coming, he tried to run off but in vain.
Later, police surrounded the house that he and six others rented on February 1 from Yusuf Ali, a Bangladesh expatriate in Saudi Arabia.
Sources said Mamun hails from Raikona village of Gaibandha district. He stands accused in at least five cases filed in the district for involvement in militancy.
During primary interrogation, Marzia said his husband Al-Amin, Noor Jahan's husband Asif Suman and her parents had also been living with them. But they fled, sensing police presence. Earlier, they lived in another house in the same village.
Additional Inspector of Police (admin) NBK Tripura told The Daily Star last night, "The arrests and recovery prove that the militants are still alive and kicking."
He however said police is sincere in fight against militancy.
Queried how someone in handcuffs managed to detonate the grenade and throw it at others, he said, "The law enforcers must be more cautious in handling militants."
RAB DRIVE
A team from Rab headquarters arrested JMB's chief coordinator Motasim alias Basir alias Nasir at Konabari of Tongi and ehsar Moyej and associate coordinator Mizan at Uttarkhan at around 4:45pm
Lt Col Majid, director of Rab intelligence wing, told The Daily Star, "Motasim's father Zillur is now in jail. He too was arrested for JMB connection."
Sources said Motasim, who is also commander of JMB Dhaka zone, hails from Mollarhat of Bagerhat, Moyej from Bhola and Mizan from Noakhali.
Also a Majlish-e-Sura member of the militant group, he has been in charge of the outfit's finances. Besides, he has been leading the legal efforts to free JMB men behind bars.
Meanwhile, the Rab and police have beefed up security in and around the venues of Amar Ekushey (February 21) programmes.
On August 17, 2005, Jama'atul Mujahideen staged near simultaneous blasts in 63 out of 64 districts, and left the nation rattled.
They struck again on November 14 the same year killing two senior assistant judges and wounding three people in a suicide bomb attack in Jhalakathi.
Besides, the outlawed outfit killed nine more people including two lawyers and a police constable and injured 78 others in two suicide blasts in Chittagong and Gazipur on November 29.