Prof Sultana dedicates her life to caring for deprived people
Speakers tell reception ceremony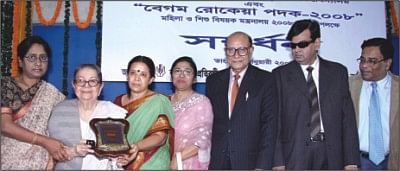 Prof Dr Sultana Sarwat Ara Zaman dedicated her life to caring for physically and mentally challenged children -- the most deprived group in society -- and proved that they also can contribute to society if they get proper opportunities.
Speakers at a reception programme said this yesterday, describing her as a worthy successor to Begum Rokeya's legacy.
Bangladesh Protibondhi Foundation (BPF) accorded a reception to its founder and President Prof Sultana Zaman for her winning the 'Begum Rokeya Award-2008' and being nominated as emeritus professor of Dhaka University.
The reception programme was held at the auditorium of the head office of Bangladesh Protibondhi Foundation she launched in the 80's to work towards betterment of the people with disabilities.
Speaking as a special guest, National Professor Dr MR Khan said Prof Sultana Zaman could feel the pain of parents of children with disabilities. So, she started working for them.
"People used offensive terms to call the physically and mentally challenged people. In the 70's, Prof Sultana Zaman started using the Bangla word 'Protibondhi' to refer to them," said Khandakar Zahirul Alam, president of National Forum of Organisations Working for the Disabled (NFOWD).
He also announced that NFOWD would honour her with 'Lifetime Achievement Award' on March 28.
Prof Sultana Zaman, through her work and dedication, showed that how women can contribute to society despite all odds, said Shaheen Anam, executive director of Manusher Jonno foundation and member of Board of Trustee, BPF, who chaired the programme.
"Prof Sultana Zaman is a source of inspiration for all. She came forward to work for the people with disabilities at a time when nobody could think of doing something for them," she added.
Speaking on the occasion, Prof Sultana Zaman said the mission to bring about changes in the life of physically and mentally challenged people has just started.
It is the duty of all to carry on the mission and step up the process, she added.
Mansur Ahmed Chowdhury, managing director of Bangladesh Protibondhi Unnayan Foundation, Dr Shamim Ferdous, executive director of BPF, and Zahirul Islam Mamun, secretary of NFOWD, also spoke.