Projecting Old Dhaka in Germany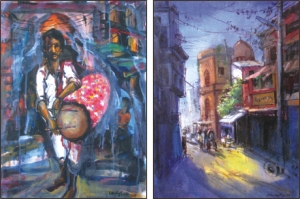 To celebrate Dhaka's 400 years, Buriganga Arts And Crafts organised an art workshop at Shilpakala recently. Jamal Ahmed conducted this event, in which eager young artists participated. Professor Samarjit Roy Choudhury inaugurated the workshop. The paintings culled from the workshop was exhibited in Germany this month. The venue was FzKKE, Euskirchen.
Farzana Ahmed Urmi (student MFA print Making DU)'s landscape with boats, done in beige, blue and black, set on mirror like clear river, has delightful tiny houses and nature's verdure in the backdrop. In the mind of the artist, Buriganga with its present silt and mud is as picturesque as some Mediterranean resort. The simple details in the backdrop, as well as the presentation of the river, has a poetic touch.
Habiba Akther Papia (MFA, DU) introduces a long -legged female rag picker, trudging her lonely and tiring path onto to nowhere in particular. In the distance are simple geometrical blocks to denote the incursion of modern architecture, which is gradually destroying the serenity and beauty of the place.
The gathering of people in "achkan" and fez, along with the milling and pushing crowd in rickshaws, including veiled women in silks and satins, present Muslim tradition in Zakir-us-Salam Russell's work. Zakir, freelance artist alike Habiba, includes good figure work.
Saniul Haque Bhuiyan Neon (MFA, DU)'s presentation comes up with a crumbing centuries-old temple, with its sloping roof and wild growth of greenery around. Along with this is an accompanying narrow lane in the backdrop that bring out the quaint charm of the older part of the metropolis.
Shantana Mannan's (MFA,DU) painting has hanging electric wires, peddlers with carts, and other interesting perspective details of an Old Dhaka lane. Done in simple and stark use of black crayons, with minimal use of blue and earthy colours, Shanta has caught the realism of the scene with photographic details.
Raqibul Islam Bulbul (BFA,DU) focuses on a segment of wall of a house, with simple washes and lines to present an unkempt road. Along with this is the adjacent section of a house, with its unique door and accompanying window. Although this does not attempt to depict the gorgeous details of some of the ancient architecture of Old Dhaka, yet this arouses anyone's curiosity of the place, and arouses admiration of the viewer.
The old, dilapidated rickshaw stranded in the middle of nowhere has mature use of colour, line and composition. This is done by Sajjad Hoshen Khan MFA (DU).
The scene in back and vermilion, showing the famous old gate, along with vehicles and plodding, heavily draped women show expertise with line and colour as in all other paintings of the exhibition. This is done by the flamboyant flecks and splashes used by MM Maizuddin (MFA, Painting)
If a similar such exhibition, done earlier by senior Bangladeshi artists, held some time back at Shilpangan, could have been carried to any part of Europe or the US, it would perhaps help western eyes to comprehend and appreciate our culture better.
The exhibition ended on August 9 and it was dedicated to Mahbub Jamil Khasru who died this year.