Weeklong art exhibition in Mymensingh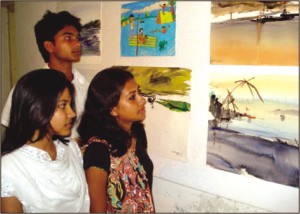 A group of students of IFA (Institute of Fine Arts), Dhaka University have arranged a weeklong painting exhibition at Shilpacharya Zainul Abedin Sangrahashala (Art gallery) in Mymensingh town.
The exhibition titled 'Art Camp-2008', was inaugurated by the Vice-Chancellor of Bangladesh Agricultural University (BAU), Dr. Md. Akhtar Hossain. The exhibition is on till July 1.
The inaugural session was presided over by Additional Deputy Commissioner (Education and Development) Ratan Chandra Pandit. Among others, Dulal Chandra Gain spoke at the programme. Rashed Kamal Russel, the coordinator of the exhibition delivered the welcome speech.
The speakers expressed the view that this initiative by the young artists is commendable. Their paintings are relevant to the history and traditions of Mymensingh region, which is reflected in the slogan "Searching Our Roots."
The coordinator of the exhibition, Rashed Kamal Russel told The Daily Star that history and culture are key aspects in the national life and so these should be properly reflected in artworks.
Works of 14 young artists -- Md. Rashed Kamal Russel, Rania Alam, Md. Farhad Ali Khan, Masuma Islam Khan, Mahfuzul Islam Rubel, Mehdi Anjuman, Khairul Islam, Tandra Mukharjee, Nasreen Sarker, Sanjida Mahmud, Mustakina Tarin, Sharmin Ahmed, Md. Azizul Hoque and Saifur Rahman -- are on display at the exhibition.
Paintings of guest artists Hamiduzzaman Khan, Ivy Zaman and Dulal Chandra Gain have also been included in the exhibition.
Earlier, similar exhibitions under the same banner were held at Sultan Gallery in Narail and Thakurgaon. A two-day workshop attended by the artists, starting from July 18, will be held at Savar. The workshop will be conducted by veteran artists Hamiduzzaman and Qayyum Chowdhury. Towards the end of the programme, another exhibition will be held at Drik Gallery in Dhaka on August 2.