Women more vulnerable to violence during floods
Says ActionAid study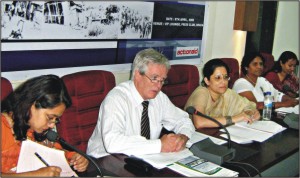 Women become more vulnerable to violence during the period of natural disasters such as floods and the number of incidents of violence also goes up, according to a study conducted by the ActionAid.
The study revealed that 71 percent of women faced more torture during the flood.
Some 53.2 percent of women respondents complained about physical violence. Most of them blamed it on their husbands. Besides, a large number of women suffered sexual and psychological abuse in the relief shelters and relief queues.
The ActionAid conducted the study titled 'Violence against women during flood and post-flood situation in Bangladesh' in three districts in October and November last year.
"Women and girls were very insecure in the flood shelter or at home. There was no state mechanism to provide security in the flood shelter. Even women and girls were not safe from neighbours or close relatives. Many women did not go to flood shelters due to the lack of security," said Prof Mahbuba Nasreen of Dhaka University while presenting the study paper at a workshop at the National Press Club yesterday.
Although Bangladesh has a comprehensive disaster management programme, a well-developed plan, mainstreaming strategies and disaster management institutions, the whole operation of the disaster management is highly centralised, the speakers said.
In case of emergency responses, communities become dysfunctional. At the same time, control of the budget, relief items, disaster management mechanisms are in the hands of higher authorities at central level, they said, adding that the local government institutions completely depend on the decision and resources of the central disaster management authority to respond to the needs of the flood victims.
The speakers suggested formulating a policy based on gender-specific responses in order to reduce violence against women during floods. Regional cooperation and networking is, therefore, essential to prevent some forms of violence against women in South Asia, they said.
Women and Children Affairs Adviser Rasheda K Chowdhury attended the workshop as the chief guest.
Admitting the vulnerable situation of women in the country, she highlighted the government's initiative to address the issue.
ActionAid Country Director Farah Kabir, Asia Women's Rights Coordinator of ActionAid International Sriyani Perera and Sayeda Rizwana Hasan also spoke at the workshop.
The ActionAid study was conducted through a purposive sampling. Some 600 women in the flood-affected 24 villages in Faridpur and Gaibandha and three wards in the capital were interviewed during the study.
Actionaid also conducted similar studies in Pakistan and Nepal and the findings were more or less the same.