Huda handed 12yrs for ill-gotten wealth
His wife Sigma acquitted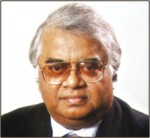 A special court yesterday sentenced former BNP communications minister Nazmul Huda to 12 years' imprisonment on charges of concealing wealth information in his statement submitted to the Anti-corruption Commission (ACC) and illegally amassing wealth.
Judge of Special Court-5 Ashraf Hossain in the verdict yesterday acquitted Huda's wife Sigma Huda since the prosecution could not prove the charge brought against her for abetting Huda in amassing the wealth.
Huda was also fined Tk 1 crore, in default he would have to serve one more year in jail.
The court set up at the MP hostel in Sher-e-Bangla Nagar also ordered the confiscation of Tk 1,18,35,289 and a Bungalow he owns at his village home in Dohar, Manikganj.
Of the 12 years, Nazmul Huda was handed down two years' simple imprisonment under section 26 (2) of the ACC Act, 2004 for concealing information in the wealth statement submitted to the ACC.
He was handed down 10 years' rigorous imprisonment under the section 27 (1) of the ACC Act, 2004 for illegally amassing wealth.
The court in its verdict mentioned that the sentences would run concurrently and would start from the day he had been arrested. Joint forces arrested Huda on February 4 last year. Sigma Huda was arrested July 5 last year.
On August 27, Nazmul Huda was awarded seven years' rigorous imprisonment in the first ever bribery case filed by the ACC while his wife Sigma was sentenced to three years' simple imprisonment for abetting her husband.
"We are pleased with the judgment. Sigma was acquitted as allegations brought against her could not be proved," said prosecution lawyer Mosharraf Hossain Kajol.
Huda during the hearing on the case told the court several times that he owned all the properties and his wife had nothing to do with it, the prosecution lawyer added.
ACC Assistant Director Talebur Rahman filed the case with Dhanmondi Police Station on July 11 last year. The first information report (FIR) of the case said Nazmul Huda and Sigma Huda did not mention their wealth worth over Tk 2.19 crore in the wealth statement submitted to the ACC.
The FIR said Huda illegally amassed wealth worth Tk 7.62 crore.
Charges were framed against the Huda couple on December 9 and a total of 92 witnesses gave their depositions beginning from January 13 this year.
The court on March 20 set yesterday for delivering the verdict.
PROPERTIES TO BE CONFISCATED
The Tk 1,18,35,289 to be confiscated include Tk 21,42,859 seized from Huda's home, Tk 16,77,721 in his Standard Chartered Bank account, Tk 11,14,783 in the name of his daughter Srabonti Ameena Huda in an Agrani Bank account, Tk 10,91,511 in the name of his other daughter Antora Salima Huda in an Agrani Bank account, Tk 13,15,810 and Tk 13,58,104 in the names his daughters in SCB bank accounts and the Bungalow he owns at his village home in Dohar, Manikganj.
HUDA'S WEALTH STATEMENT
Huda submitted his wealth statement on February 25 last year after the ACC on February 18 issued notices on 50 graft suspects including Huda asking them to give statement of wealth within 72 hours.
Huda, however, did not mention the value of his declared wealth in his statement. Unlike others, he did not reveal the amount of money he had in banks. He also gave an explanation about the foreign currencies seized by joint forces at his home.
He claimed he owned five cars including a Cadillac Escalade and a Toyota Crown. He did not mention the prices of his cars.
Huda in the statement said he has bank accounts in Woori Bank, Agrani Bank's National Press Club branch, National Bank and Prime Bank. He has a credit card from National Bank.
He said he has several accounts under his name, his wife's name and under joint names in Standard Chartered Bank Motijheel branch. He also has a bank account in the same branch under his law firm's name as well.
Antora Salima Huda and Srabonti Ameena Huda jointly own an 11th-floor flat in Concord Tower in the city's Nazrul Islam Avenue. Srabonti Ameena, younger of the two, has a Daewoo vehicle.
About the foreign currencies seized by the joint forces, Huda said those belong to his wife. She earned them as TA/DA, ticket fare, and accommodation expenses while serving as a UN special reporter.