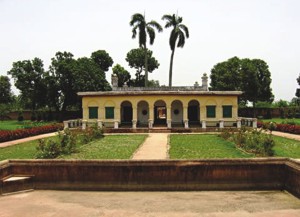 It takes five and a half hours to reach Murshidabad from Kolkata.
The town was built in 1704 by Murshid Quli Khan, the governor of the province of Bengal. In 1716 he rescinded his allegiance to Delhi and became the first independent Nawab of 'Bengal, Bihar and Orissa.' He moved the capital from Dhaka to the township he had founded on the southern bank of the Bhagirathi river, until the British later moved it to Calcutta.
As the train pulled into the station at 4:00 in the morning, my first impression was of a town forgotten by time. After the seminar in Kolkta ended, a surprised colleague had asked: "Why, what's happening in Murshidabad?"
These days 'something' (conferences, workshops) has to happen for academics to venture anywhere, I guess! I replied "Oh, just taking a trip to see some tombs, I guess."
No, I was not hoping to arrive at some startling historical truth. 1757 was the year Siraj ud Daula's and Clive's armies confronted each other at Plassey, 40 kilometres south of Murshidabad. But the motives and actions of the major actors in that drama are shrouded in ambivalence. Historians have torn each other's tomes apart in efforts to 'arrive at the truth' about 1757. Though I had no such high intentions, I was at least sanguine that the one-dimensional historical accounts would come alive somehow. And who knows, in an inspired moment during the tour, perhaps a part of the fog might lift.
Dr. Keka Duttaroy, who accompanied me, might have had other reasons for going though she didn't elaborate. She had taught at Berhampore, the district headquarters of Murshidabad, and was keen to see the place again - where her cherished child, now departed, had grown up. My late father often spoke of Murshidabad during the post dinner conversations we used to have when I was growing up. He would invoke scenes from literature and history. He spoke of Murshidabad's past, its silks and river. Of the play he had seen as a young man in Calcutta; about all that took place at Plassey one summer day hundreds of years ago. It had all blended into one collage - my father's retelling of history, his youth, my childhood, my university days spent studying history…
The guesthouse was clean and comfortable. By 10 a.m. we were up and ready for the day's outing. The driver of the hired Maruti was a young man named Shahid. The first stop was the Jahankosha Cannon. This artillery piece was built by a craftsman from Dacca -- one Janamardan Karmakar. More than the cannon itself, I was struck by the setting. A picture-book bamboo grove swaying in the breeze, a few thatch huts, and a boy playing. Here we caught the first glimpse the Mughal army, of an aggressive, martial race thrashing their way eastward in a bid for land, loot, empire. They had come to colonize the grain-rich, quietly rolling countryside of Subah Bangala and turn it into a wealthy outpost of empire.
As the Maruti drove to Katra Mosque and seminary I tried to talk with Shahid, but conversation with tourists wasn't his strong point. In front of the mosque, a path led through a garden to a flight of stone steps under which Murshid Quli Khan lies buried. The portal was flanked by two tall watch-towers which point to the feudal character of the age - watchful, alert, and belligerent. But this is off set by the serenity which the precincts possess. The guide explained that the Nawab interred there, none other than the founder of the city, had wished to be buried alive and trampled on by countless ages! Later we heard a similar tale where the fair Azizunnessa lies buried at another mosque. (Azizunnessa, the guidebook said, was engaged in illicit liaisons and was, to boot, fond of human flesh). My! Lust and cannibalism, if these stories were to be believed! A logical part in my brain, however, whispered, "Brutal as the age was, who in his/her right mind would wish to be buried alive?" Moreover, self- annihilation went against the scriptures; and the ruling race was careful to observe the niceties of religion.
After lunch we reached Jafraganj - territory of the Mir Jafar clan. The palace, which later served as the Circuit House for notables such as Warren Hastings and John Shore, is now in ruins. Keka informed us that years ago the entire cemetery was overgrown with brambles and inhabited by snakes. Now the cemetery was well tended and accessible, with a little ticket counter under the archway to the graveyard. The archway was constructed in the manner of a 'nahbatkhana' -- the customary seat atop the gateway for royal musicians. Over a cemetery it makes one think of a musical portal to the mansions of the dead.
We went in where the most famous traitor in Indian history lies buried. By conspiring with the British and refusing to battle that fateful June day at Plassey, Mir Jafar, Siraj ud Daula's treacherous uncle, earned his pitiable place in history.
The fine-boned young man who acted as guide pointed to a set of tombs within an enclosure. These were the Begums -- observing purdah beyond death. One particular tomb stood out. It was that of Mir Jafar's wife Munni Begum, famous for her beauty, intelligence, philanthropy and gracious living. So, I mused, life must have gone on in the nawab's palace after Siraj's brutal murder. It must have been business as usual in this city of intrigue and death. The goras kept the nawab and his family in relative splendour while they slowly strengthened their hold on state power. The Jafars were spared the ignominy meted out to the last Mughal emperor - his widow was laid to rest in style.
"And here we are," the guide was saying, "the grave of Mir Jafar."
Simple and unadorned - next to a row of other graves - one could not tell by looking at it that this was the resting place of one of the most despised characters in Indian history The man whose name would, as the eponymous Siraj proclaims in the play, "become a synonym for the word traitor wherever betrayal takes place."
I don't know if the historical Siraj ud Daula ever said this but playwright Sachin Sengupta's prediction certainly came true.
We know Mir's days on the masnad were short lived. His successor Mir Quasem realized that the British motives were sinister and tried, in vain, to undo what his forebear had done. Did Mir Jafar also try to atone towards the end? Like the Pink Floyd song:
Dark stranger, what drove you to this?
Did you exchange a walk over part in the war
For a lead role in a cage?
The silent grave threw up no answer.
The face that gazes out from the painting of Mir Jafar is that of an experienced man -bearded, obese, composed. A man given to the pursuit of power (or in happier times, food). In his portrait Siraj, a bare youth of 25, is clean shaven and wide-eyed. Both faces are sideways, following painting conventions of the time, looking at some point in the horizon.
And so to Siraj, who reposes quietly on the other bank of the Bhagirathi.
But before that we had to make a choice. If we went to Hazar Duari (Palace of a thousand doors) the residence of the post-Plassey nawabs, we might have to forego Khoshbagh, the cemetery of Siraj and his kin. Years ago Keka had been dissuaded from going there by talk of it being a 'den of riff raff and opium addicts - no place for a lady'. So after walking up to the palace entrance, tempting as it was, we retraced our steps.
"There would not be much left of the day if we went in," I explained to a surprised Shahid.
"And we'd rather go to Khoshbag than the palace of collaborators," Keka finished smartly.
We chose a forlorn village ferry to cross over to the other side. The river Bhagirathi has a quality best described by the Sanskrit word 'sreemoy' -- possessed of grace. It is a gently flowing river that wound its way through golden mustard fields, its waters the "translucent colour of crows' eyes." From the wharf we got onto a rickshaw. Khoshbagh (Garden of Peace) is nestled amidst slightly undulating ground, sprinkled by winsome trees -- the secluded cemetery reminded me incongruously of a miniature English garden. Nothing could be further from a den of riff raff, not that I would have minded.
A guide named Hari agreed to accompany us. We stepped inside the complex where the last 'independent nawab' lies buried.
Siraj ud Daula ( 1733-57) is variously made out to be 'a martyr and monster of iniquity'; a lecher and a saint; a patriot and a fortune seeker; a fool and a strategist - one may take one's pick. In all fairness, both Siraj and Mir Jafar were acting out the scripts dictated by their circumstance and time. After the vilification and hype are laid aside, we have a nawab who knew not the people he ruled over. He belonged to the Mughal elite whose pressing need was to fill Delhi's imperial coffers. It is said that when the Battle of Plassey took place, the common folk looked on from a distance, and went about their daily tasks. To them it was nothing more than a contest between the nawab and the goras.
True, Siraj never spoke Bengali, contrary to the image of the nationalist icon; he never donned 'native attire.' Yet he could have gone the way of the others - how much easier that would have been. Instead he chose to resist. So when we needed a hero we found one.
The cemetery is laid out in three sections. In the first were interred Sharifunnesa, Alivardi's wife,;Amina Begum, Siraj's mother, and Ghasiti Begum, his aunt. Destiny had brought together in death Siraj and his aunt Ghasiti Begum -- the woman who had plotted her nephew's downfall. The second enclosure contains the grave of Siraj's noble lieutenant, Ghulam Hussain famous for his loyalty along with Mohanlal and Mir Madan. Mohanlal would have been cremated and Mir Madan lies buried elsewhere. Here also lie the faithful body guards -- Abdul Hussain and Sabdul Hussain. Through another twist of fate, Danesh fakir - the man who identified a disguised Siraj to the enemy - lies a few yards away. The hazy pictures gleaned from books were beginning to fall into place.
We stepped into the last enclosure. Here lie Alivardi Khan, Siraj's three-year-old daughter Ummatul Zohra, and wife Lutfunessa, Aleya ( Mohanlal's sister), and in a further twist, Shaukat Jang, whom Siraj himself had slain.
I was trying to sort out the complicated order of relationships, betrayals, and alliances when Hari stopped in front of the only grave with an inscription (in Arabic).
"Here lies the great man himself,"he whispered.
Something in his tone made me look up. Hari -- quiet in demeanour, not a university graduate - knew his history in a way many of us never will. Whatever interpretations the books offer, Hari must have imbibed the verdict of two eminent scholars (to quote Banglapedia): "He (Siraj) was the only one of the principal actors who did not attempt to deceive."
I too could not think of a better epitaph.
As we rickshaw-ed back down the deserted road the pungent scent of mustard blooms reached our nostrils; a lone bird chirped in a grove nearby. We started humming a timeless melody in a language none of those lying quietly in their tombs would have understood well:
Dhono dhanyo pushpe bhora
Amader ei basundhara
Tahar majhe ache deshek shokol desher shera
Somehow, 250 years later, with all the actors long gone, it seemed a fitting song.
Sonia Amin is professor of History, Dhaka University.