<i>Fire turned her world upside down</i>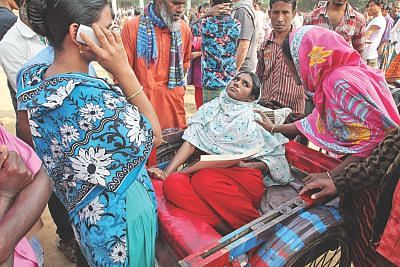 Garment worker Fahima was on her way to Tazreen Fashions yesterday morning. Although it was nothing new to her, yesterday was different.
The devastating fire at the garment factory in Ashulia, which killed over 111 workers on November 24, had changed her life drastically. She is even unable to take a step without a helping hand.
Fahima huddled on a rickshaw van, her face upwards, while her brothers Nurunnabi and Nazrul were walking in tow.
Doctors said she had fractured and dislocated her waist bones when she jumped off a window of the factory building during the fire, said Nurunnabi.
With her brothers she travelled all the way from Savar to Tazreen to withdraw her salary. But there were no representatives from the management of Tazreen, nor from the Bangladesh Garment Manufacturers and Exporters' Association (BGMEA) to pay the salary till midday.
On a factory wall was pasted a notice that said, "The salary for the month of November will be paid to all the staff on December 1."
The siblings were waiting in a corner of Nishchintapur Non-Government Primary School while the other workers of the factory were demonstrating at the factory, demanding three months' wage arrears.
Asked what had happened to her, sewing operator Fahima said in a soft voice, "It was dark on the fourth floor. But then a sheet of fire came raging into the floor. I jumped off the window when my dress caught fire."
Several parts of her body were burnt. She had to have eight stitches in her chin. She had jumped on a tin-roofed house from where she tumbled on a concrete slab.
Fahima's brothers had spent Tk 12,000 on injections, capsules, tablets and an X-ray when she was admitted to Dweep General Hospital, a private clinic. She was referred to an orthopaedic hospital from there.
"But those are not for the poor. So we have decided to take her to Solaiman Kabiraj," said Nazrul. Solaiman, a local medicine man, had assured them that Fahima will be able to walk in a year.
"But he forbade us," Nazrul said, "to take her to any hospital and buy her any medicine. He would charge Tk 10,000."
Nurunnabi said they need the salary badly to pay for Fahima's treatment and house rent.
Asked what they would do in case she did not get the salary, Nurunnabi said, "We have to go home. What else we can do?"
Factory officials along with Ashulia police asked the agitating workers to take one month's salary, which they refused to do.