12 Buddhist Temples Torched, 50 Houses Smashed
Extremists 'linked'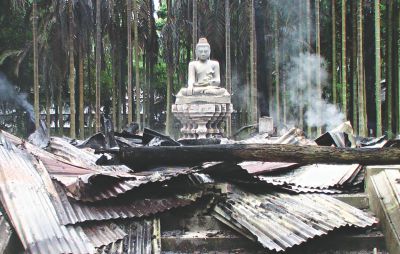 Islam-insulting Facebook photo led to outburst, unidentified person tagged Buddhist man in the pic, locals say some Rohingya, militant groups incited mayhem since Saturday midnight

---
In what turned out to be long hours of arson and vandalism, a mob destroyed 12 Buddhist temples and monasteries and more than 50 houses in Ramu upazila of Cox's Bazar early yesterday. The violence was apparently triggered by a Facebook posting of a photo defaming the holy Quran.
Some miscreants also vandalised two monasteries and a Hindu temple in Chittagong's Patiya upazila and torched two monasteries at Ukhia and five houses at Teknaf upazila in Cox's Bazar.
Selim Md Jahangir, Cox's Bazar superintendent of police, said three Buddhist temples were burnt to ashes during the frenzy that started around midnight Saturday and continued till 3:00am yesterday.
The temples include some century-old pagodas, most revered by the country's minority Buddhists.
Locals, politicians and law enforcers suspected militants and Rohingyas of instigating the violence.
Ramu Upazila Chairman Sohel Sarwar said insurgents from the Rakhine state of Myanmar, Rohingyas -- the Myanmarese ethnic group who often intrude into Bangladesh -- and anti-liberation forces might have had a hand in the attacks.
Locals said the rioters blamed the spread of the photo on a local Buddhist, identified as Uttam Kumar Barua, son of Supto Barua of Baruapara at Ramu.
Ashutosh Barua, a government official of the upazila, told The Daily Star that 25-year-old Uttam worked as an assistant deed writer in Ramu upazila.
Some media reports have quoted a minister as saying the youth was an employee of Bangladesh Small and Cottage Industries Corporation (BSCIC). The Daily Star was yet to verify it.
Uttam claimed someone had tagged him in the photo on the social network site. Soon after the violence broke out, his Facebook account was closed and police escorted him and his mother Madhu Barua to safety, said SP Selim.
Abdur Rahim, manager of Diamond Restaurant at Kolatoli in Cox's Bazar, told a correspondent of The Daily Star yesterday afternoon that many in his neighbourhood had received the anti-Islam picture over their mobile phones through Bluetooth.
He too got it from a Rohingya man, whose name he couldn't say.
Issuing a press release yesterday, Bangladesh Telecommunication Regulatory Commission said on its request, the Facebook authority had removed the derogatory photo of the holy Quran.
The BTRC also said it would continue efforts to get anti-Islam elements removed from social network sites and it urged all to refrain from posting and circulating anti-religious posts, messages and pictures.
Yesterday morning, the Cox's Bazar district administration imposed Section 144 in Ramu.
Members of the armed forces and strong contingents of law enforcers were deployed to contain the situation, with government ministers rushing to the spot.
In the capital, addressing a press briefing, Information Minister Hasanul Haque Inu alleged that communal forces had been involved in the Ramu violence.
"We have information that identified communal forces of Ramu and Cox's Bazar were present during the violence. The government will find them and ensure stern punishment."
HOW VIOLENCE FLARED UP
Police and witnesses said after the spread of the news about the Facebook photo, hundreds of people thronged Choumuhani area of Ramu and staged angry demonstration around 10:00pm Saturday.
Police from Ramu upazila tried to cordon off the area but were soon outnumbered and pushed back.
Nojibul Islam, officer-in-charge of Ramu Police Station, said several thousand people on trucks from Gorjonia, Rashidnagar, Jhilongja, Eidgaon, Kochhopia and Rajarkul areas of the upazila swarmed into Choumuhani.
Around midnight, chanting slogans Naraye Takbir Allahu Akbar, they started ravaging and setting Buddhist temples and houses afire, he added.
Riot police and Rab arrived around 11:00pm, but by then hundreds of people had set fire to Buddhist households in Baruapara.
Around 12:30am, a mob burned down a 250-year-old Buddhist temple on Cheranghata road, Borokang Buddha Bihar and Kendriyo Shima Bihar. An angry mob also vandalised Baruapara Buddhist temple at Srikul of Ramu.
Buddhist people started to flee their homes as the fire services failed to reach the spot amid increasing violence around 1:00am.
With the help of police, the fire services managed to douse the blaze around 2:30am but the temples and the houses had already been gutted by then.
Pragganando Bhikkhu, resident director of the 250-year-old Shima Bihar, said some 80 to 90 people wearing red bandanas on the forehead spread gun powder and petrol and torched the temple late last night. The monks tried to douse the blaze but the miscreants obstructed them.
Around 3:30am, the BGB, Rab and police managed to quell the violence and bring the situation under control with the help of local influential people, including lawmaker Lutfur Rahman and Ramu Upazila Parishad Chairman Sohel Sarwar.
Since yesterday morning army, BGB, Rab and police have been guarding all the 27 Buddhist monasteries and temples in Ramu.
However, police were unable to confirm the number of injured persons as most Buddhist people have been in hiding since Saturday night.
The damaged temples include Progga Mitra Bihar, Uttar Mithachari Bimurta Bhabona Kendra, Ukhia Ghona Jojoba Bihar, Srikul Maitree Bihar, Srikul Natun Bihar, Lal Ching Bihar, Sada Ching Bihar, Mahajan Bihar and Ramu Kendrya Shima Rajbon Bihar at Merongloa area.
Biplob Barua, a victim of the incident, said the demonstrators had burnt his house with gunpowder.
UKHIA
Upazila Nirbahi Officer Jahirul Islam told the Daily Star that some 500 demonstrators had burnt a temple named Pashchim Ratna Sudarshan Buddha Bihar in Kotbari area around 7:30pm yesterday.
He said he had heard a gunshot but could not confirm its source.
The mob left the scene after police rushed there and opened blank fire to disperse them.
Meanwhile, some people attacked Balukia Kalachand Bijoyanta Bibekaram Bihar around 7:00am, locals said. But the UNO could not confirm it.
PATIYA
Some miscreants in Patiya yesterday morning vandalised the Hindu temple Kolagaon Nabarun Sangha Durga Mandir and Buddhist monasteries Kolagaon Sarbojanin Ratnangkur Buddha Bihar and Lakhera Avoy Bihar.
Upazila Chairman Md Idris said the mob had demolished the idols.
Police arrested 26 persons in connection with the incidents, said OC Aminur Rashid of Patiya Police Station. Most of the arrestees are workers of the Western Marine Shipyard, he said.
Patiya police said the workers had joined a local gang.
Reached over phone, Western Marine Chairman Saiful Islam denied the allegation. He said some 10 to 12 workers who took part in the vandalism were not employees of Western Marine; they worked for the company's sub-contractor.
"However, we'll identify them and hand them over to the law enforcers."
TEKNAF
Local sources said some thousand people went to Hoyangton union to destroy a Buddhist temple around 7:30pm. But they failed as police and BGB members opened blank fire to disperse them. Police also baton-charged the mob, injuring at least 10.
The unruly people attacked the Buddha neighbourhood and set five houses on fire.