Gazans form 'human chain' to protest Israeli blockade
Four more Palestinians killed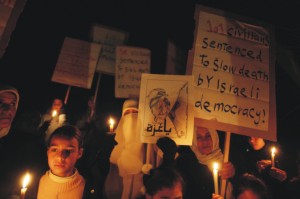 Palestinian schoolchildren were forming a human chain the length of the Gaza Strip yesterday to protest a crushing Israeli blockade, with Israeli forces on alert for any rush on the border.
Coming from around Gaza, they were joined by adults along the main highway traversing the centre of the impoverished coastal strip, known as Salaheddin Road, an AFP correspondent witnessed.
"The Siege of Gaza Will Only Strengthen Us," "The World Has Condemned Gaza to Death" and "Save Gaza" were among banners brandished by demonstrators, who were gathering peacefully.
The Popular Committee Against the Siege, a politically independent group headed by Jamal al-Khudari, an MP with close links to the Islamist Hamas movement, had called for the demonstration against the months-long siege.
The aim was to construct a human chain from the sealed Rafah crossing on Gaza's southern border with Egypt to the Beit Hanun (Erez) crossing in the north along the territory's main highway.
Hamas, which seized the Gaza Strip in June following battles with forces loyal to Palestinian president Mahmud Abbas, has said it backed the demonstration but did not organise it.
Meanwhile, three members of the armed wing of Hamas were killed overnight Sunday in two Israeli airstrikes on the Gaza Strip, the group said.
A fourth militant, belonging to the Popular Resistance Committees, was killed during an Israeli incursion near Rafah, in the south, medics said.