Easy viewing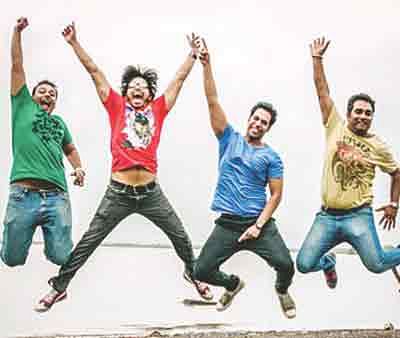 A film titled "Shuttlecock Boys" is all about badminton, right? Wrong because the sport is incidental to the intriguingly titled film. Here we have four friends, from a lower middle class background who frustrated with their present jobs put their heads together to break loose. And of course badminton forms a backdrop to their search.
So the protagonists Gaurav, Manav, Pankaj and Loveleen set off on a journey with its fair share of frustration, challenge and sometimes a glimmer of success. Giving up their present occupations as call centre employee, credit card salesman, chef and aspiring chartered accountant, the foursome hit upon the idea of setting up a catering business.
The journey to success is rocky--no kitchen to cook in, no clients and steadily diminishing savings. As they overcome the obstacles in their path, comes another shocker. Nevertheless, the film ends on a note of optimism and hope.
Director Hemant Gaba says the film has parallels with his own life. As he says, "I looked back into my life and combined two bits. First when I was 16-17 years old was used to play badminton with friends in our neighbourhood just like the protagonists. Second, I worked in a software company from the age of 21 to 28. This was the time when we were used to discuss the monotony of our jobs and just wanted to break free from and do something on our own... and our lead characters also decide to do something on their own."
However, Gaba seemed to have bitten off more than he could chew. Shooting in over 18 locations in just 20 days with over 40 speaking characters was a daunting task. The first day, when they were shooting in a park, the entire police station came and asked the crew and cast to leave. "We shot all the exteriors in guerrilla style. We used to station one car in each direction approximately 500 metres away from the shooting area. So if we saw any trouble we would get to know and push off," says Gaba
It is to the credit of Gaba that his debut film holds attention despite the fact that the protagonists, Aakar Kaushik, Manish Nawani, Alok Kumar and Vijay Prateek are raw to filmdom. The entirely credible plot is entertaining, even if simplistic. The music by Avinash Baghel is easy on the ear and the overall production professional.
The compliments have poured in. An enthusiastic viewer tweeted after the press show "Even after the film finished, people still stayed in their seats'"
"May be they wanted something more to happen," says Gaba laughingly.