TechFocusBangla computing
Making technology culture specific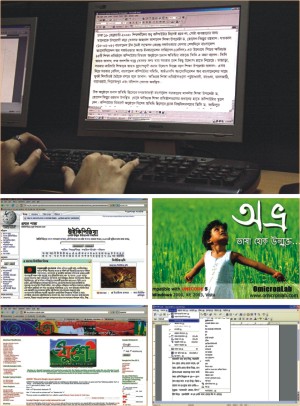 Infants primarily respond to their surroundings by their own gesture and then gradually learn the language to develop physical and mental growth. This language is known as mother tongue, which has a great impact on personal, social and national activities.
Developed countries attach great importance to their native language and conduct all activities based on it. In Japan, all citizens use Japanese in their A to Z activities. They even do their overseas communication through it.
Now Japan has become an economic giant and technology leader, which has helped take the language to the peak. People now need to know Japanese to do business with the country.
But things are different in the developing world. People in countries like Bangladesh fight for daily survival; opportunities are hard to find and unemployment is soaring every year, triggering the necessity for more diversified approach. For this reason, switch to global language is quite natural.
From economic point of view, it is relevant for us to learn foreign language to enrich expertise and then contribute to the country's development. Economic stability could also be achieved by developing capacity through the use of native language. Differences of opinion may exist, but we can think in other ways.
From the perspective of Bangladesh, the use of foreign language in IT is a big problem for the people to enjoy the optimum benefits of modern technology. For instance, English is not intelligible to rural people. But then, nearly all computer applications available in the local market require a basic knowledge of English.
In order to overcome the problem, the concept of Bangla computing has become a reality. The craze for Bangla computing is now gaining momentum day by day. The impact of Bangla computing is not limited to socio-economic aspects only. It also pushes us to obtain a Bangla language identity on the global stage.
There are two ways to incorporate our native language into the computer system -- the first one is using Bangla in operating system and the second one is using the language in software. Many of us use Bangla font in office applications, which is an instance of the second type.
With the advent of Unicode, it is now fairly possible to implement Bangla language in modern computer system. But you may wonder how computer works with the language. Technically speaking, computer actually knows nothing but 0 and 1.
When you press any character on the keyboard, your PC just converts it into 0 and 1. 0 means low and 1 means high. Before the innovation of Unicode, many encoding systems were utilised to do this task. But they were not capable of incorporating all languages. Unicode has solved the problem.
It was in 1986 when Bangla language first entered the computer system through "Shahid Lipi". It was a breakthrough. The introduction of "Bijoy Bangla Software" also added a new dimension to the Bangla computing initiative.
The main problem at that period was the compatibility issue of Bangla language. Bangla was not usable as a general language on every system as there was no unique way to represent Bangla. Now Unicode has fixed this problem. All modern day software have Unicode compatibility.
In 2005, Ananda Computer released Unicode-compatible Bijoy software. Currently, two different Bangla software solutions such as "Bijoy Ekush' and "Bijoy Bayanno" are available from Ananda Computers.
Avro Keyboard was born on 26 March in 2003, bringing a new era in Bangla computing. It is flexible, gorgeous, feature rich, totally customisable, user friendly and already has a lot of typing automation tools. Ekushey.org is also contributing to the computerisation of Bangla.
Since 2004, the Centre for Research on Bangla Language Processing (CRBLP) at Brac University has been working on the effective use of Bangla on the computer system and the main focus areas are Bangla OCR, spell checker, font converter, Bangla grammar check, speech to text converter, Bangla pronunciation generator, Bangla dictionary, English to Bangla translation and others.
Bangla OCR (Optical Character Recognition) is a nice solution that basically converts scanned text into Word document. This system is capable of generating Unicode-based output. CRBLP has included this software on GPL and for this reason people can enjoy free download opportunity. This software has very intuitive interface and easy-to-use features. .NET Framework Version 2.0 or beyond is required to run this software.
Another landmark in Bangla computing is Microsoft's initiative to develop Bangla Vista and Office 2007.
Chris Atkinson, president for South-East Asia of Microsoft Asia Pacific, said, "Microsoft has been a forerunner in the localisation revolution, extending the reach of IT across a diverse set of multi-lingual communities in languages they are comfortable with. Worldwide our flagship products will offer language localisation for 100 languages. We have focused R&D teams working round the clock to create new benchmarks on the product localisation front".
Microsoft Bangladesh kicked-started its Local Language Program (LLP) on November 08 in 2006. It is a global initiative of Microsoft that aims at attracting people to IT through their native language.
Microsoft Bangladesh has been partnering with Bangladesh Computer Council (BCC) and Brac University (BU) to prepare the Bangla Language Interface Pack under the LLP. The software giant hopes that this solution will be available by 2008.
Apart from this, open source software development has also gained huge popularity in this country. Many teams and individuals are now engaged in this process.
Probably many of us have come across "OpenOffice" office suite. Ankur, a local organisation, is working on open source platform for a long time now. The firm has developed the Bangla version of OpenOffice.org 2.0. This software does not require any licence fee and is open for developer so that they can customise it according to their requirements. It also supports more than 70 languages.
Nowadays Wikipedia is a very popular online encyclopaedia, which contains numerous entries on hosts of issues. Bangladesh Open Source Network (BdOSN) has already published the Bangla version of Wikipedia. Currently, Bangla Wiki has more than 1600 entries and 1700 contributors.
Bangla computing is necessary to bridge the gap between technology and people. We have talented people and they have already proved their competency in several circumstances. But due to the lack of right projection, they have not been able to come in the limelight. It is the government's responsibility to nourish the talents and transform the country into a hi-tech hub.