Tamaddun Majlish to help groom new generation as worthy citizens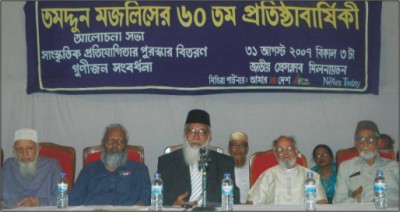 Speakers at a discussion yesterday said that Tamaddun Majlish, an age-old socio-cultural organisation of the country, will contribute to grooming the new generation as worthy citizens.
There are many educated persons in the country, but worthy citizens are rare, they said at the discussion organised on the occasion of the 60th founding anniversary of Tamaddun Majlish at National Press Club in the city.
The founding anniversary functions also included distribution of prizes among the winners of a cultural competition and according reception to distinguished personalities.
Justice M Abdur Rouf attended the function as the chief guest. Prof Dr Askar Ibne Shaikh, Prof Dr Kazi Deen Muhammad, language movement veteran Gaziul Haq, AZM Shamsul Alam, Prof Chemon Ara, Prof Abdus Samad, journalist ABM Musa, Prof M Shamsher Ali and Prof Abdul Gafur took part in the discussion.
Tamaddun Majlish General Secretary Prof Farid Uddin Khan delivered the welcome address while Prof Dr Anisuzzaman presided over the function.
The speakers said Tamaddun Majlish began its journey with the firm pledge to groom people with human values through its cultural activities. It fought against discriminations in political, social and economic fields during the Pakistani regime, they added.
Dr Askar Ibne Shaikh, Rafiqullah Chowdhury, language movement veterans Azizur Rahman and Farman Ullah Khan, poet Mohammad Mahfuz Ullah and AZM Shamsul Alam were accorded reception at the programme.