Collegiate School to celebrate 175 years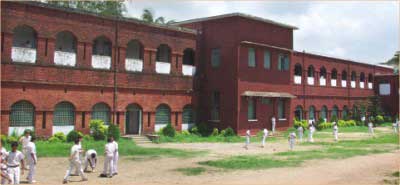 The 175th founding anniversary of Chittagong Collegiate School, one of the most famous educational institutions in the country, will be celebrated in the port city tomorrow.
Nobel laureate Prof Muhammad Yunus, former student of the school, will inaugurate the three-day celebration. Chittagong Collegiates, an organisation of former students, organised the gala celebration.
Different programmes including colourful procession, discussion, the family reunion of former students, reminiscing memories, chitchat and cultural functions will be held during the three-day festival.
Now situated on the Ice Factory Road, the school started its journey in 1836 as a pioneer English medium school in a brick building at a hillock in the southern area of Parade Ground and eastern side of Madrsa Hill where Haji Mohammad Mohsin College stands. It was the first Entrance School in greater Chittagong in the early twentieth century.
The school went under the Divisional Inspector of Schools in 1909 and the existing building was constructed in 1925. The educational activities of the school were suspended for four years but resumed in 1941.
According to East Pakistan Gazetteer, Chittagong Collegiate School, popularly known as Zilla School, incorporated compulsory military education into its curriculum in the 60s. Industrial arts, engineering, applied electricity and drawing were also introduced in the school syllabus, the Gazetteer said.
The institution was shifted to Markot Sahib Hill and established on Ice Factory Road in 1886. The school started its morning shift in 1963.
There are currently over 2,000 students in the school with 21 classrooms, a library, two science labs, a computer lab, three halls and an auditorium.
Though the school took a few decades to achieve its current reputation, its eminence for standard education is always mentioned-worthy. It has achieved the country's best school award several times. This lyceum has given birth to a good number of renowned scholars, educationists, scientists, doctors, journalists, politicians, economists, industrialists, athletes and high officials.
Poet Nabinchandra Sen and Dr Annadacharan Khastagir, who played a significant role in spreading English education in Chittagong, were the alumni of this school. Moreover, Nobel Laureate Prof Muhammad Yunus, Dr Abdullah Al Moti Sarfuddin, Prof Jamal Nazrul Islam, Novelist Humayun Ahmed, Dr Md Zafar Iqbal, Abul Hayat, Dr Hossain Zillur Rahman, Dr Mustafa Nurul Islam, footballer Ashish Vadra, cricketer Minhajul Abedin Nannu and grandmaster Niaz Morshed are the renowned students of the institution.
Acting Headmistress Triptikana De said she is proud to participate in celebrating the event. "This school is one of the pioneer schools of the country and I am really lucky that the 175th founding anniversary would be celebrated in my tenure," she added.
Speaking to The Daily Star, Abul Hasnat Md Belal, press secretary of the festival committee, said, "A school is going to celebrate its 175 years. It is quite a rare event."
He urged the government and the school authority to preserve the building and other things related to the history of the school.