Climate Change Fallout
Risks of social unrest growing
Experts tell int'l conference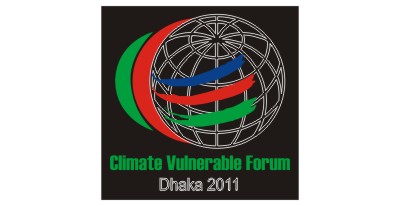 Climate change is causing political, economic and social instability exacerbating insecurity for the people of the poorest countries, said representatives and activists of climate vulnerable countries yesterday.
There is no time to sit idle and wait for assistance from the developed countries, they said emphasising on quick actions by vulnerable countries themselves.
The observations were made by speakers at the two-day international conference of Climate Vulnerable Forum (CVF) which began in Dhaka yesterday, aiming to reach a consensus to stand together at the negotiations at Durban climate conference scheduled to take place at the end of this month.
The CVF conference is expected to create an opportunity for the newly created platform of vulnerable countries for taking advantage of the positive momentum sparked by the Copenhagen and Cancun meetings of the United Nations Framework Convention on Climate Change (UNFCCC).
The gathering of CVF members is significant just a couple of weeks ahead of COP 17, as they are working on a Dhaka declaration and a road map of activities from a common platform, said the speakers during discussions at a preparatory meeting titled "Common Space for CVF Member States, Observers and Non-stakeholders".
Environment ministers from 11 countries and observers from 8 countries are taking part in the conference and spoke at the opening session.
Dr Saleemul Haq, senior fellow on climate change of the International Institute for Environment and Development (iied), said many initiatives were taken by different international forums since 1990 when the Inter-governmental Panel on Climate Change (IPCC) published its first report.
"Almost none of those measures was implemented properly," he noted adding it is time for vulnerable countries to take preparation to battle climate change on their own.
Dr Atique Rahman, executive director of Bangladesh Centre for Advanced Studies (BCAS), said the position of vulnerable countries is actually a position against moral injustice the industrialised nations inflicted on the poor countries through excessive carbon emission.
The speakers said the poorest countries and the poorest of the rich countries are hit the first and the hardest by climate change.
Prime Minister Sheikh Hasina will open a ministerial level meeting of CVF this morning where UN Secretary General Ban Ki Moon will be present.
Chair of the forum, President of Costa Rica Jose Maria Figures Olsen, and Foreign Minister of the Maldives Ahmed Naseem are also in the city to attend the conference.
The member countries of the forum are Afghanistan, Bangladesh, Bhutan, Costa Rica, Ethiopia, Gambia, Ghana, Kenya, Kiribati, Madagascar, the Maldives, Nepal, the Philippines, Saint Lucia, Tanzania, Timor-Leste, Tuvalu, Vanuatu, and Vietnam.
Yesterday's preparatory meeting was opened by Bangladesh Foreign Secretary Mizarul Quayes.
Bangladesh Environment and Forest Secretary Misbah ul Alam, and UN representative in Dhaka, Neal Walker, among others, spoke at the session moderated by Dr Qazi Khaliquzzaman.
Director of the International Organization for Migration (IOM) Shahidul Haque delivered a speech on climate change induced human migration.
UNDP Country Representative to Bangladesh Stefan Priesner, and director general of Spain based DARA, Ross Mountain, delivered speeches on "Challenges and Opportunities for Green Growth in the Specific Context of CVF Forum".