UN chief to visit Bangladesh on Nov 13-15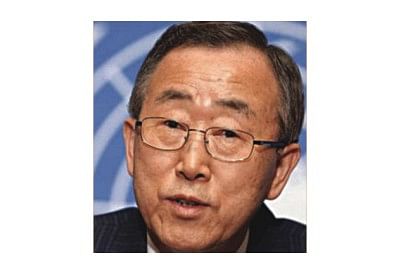 UN Secretary General Ban Ki-moon will arrive in Dhaka on November 13 on a three-day tour of Bangladesh during which he will attend a climate change conference, visit the UN peacekeeping institute and discuss the country's socio-economic achievements.
Ban will take part in a series of events even though the details of his programmes are yet to be finalised, UN officials in Dhaka said speaking on condition of anonymity.
On November 14, the UN secretary-general will attend as special guest the inauguration of the two-day Climate Vulnerable Forum (CVF) Ministerial Meeting at Sonargaon Hotel.
Prime Minister Sheikh Hasina will address the function as chief guest.
The CVF is a group representing the most vulnerable countries to climate change in Africa, Asia, and the Pacific.
The ministerial meeting will discuss ways to enhance the ability of vulnerable countries to address key challenges arising from climate change. The ministerial meeting will be preceded by an official-level meeting on November 13.
The meeting is aimed at consolidating the newly formed group and devising a new strategy to draw global attention to the challenges faced by countries especially vulnerable to climate change.
The Forum, formed in 2009, is expected to issue a declaration clearly outlining the common aspirations ahead of the upcoming UN Framework Convention on Climate Change (UNFCCC) Conference of Parties in Durban.
Ban visited Bangladesh Institute of Peacekeeping Support Operations Training (BIPSOT) where Bangladesh trains UN peacekeeping forces.
In Dhaka, Ban will visit the International Centre for Diarrhoeal Disease Research, Bangladesh (ICDDR,B), an international health research institution located in Dhaka.
On November 15, Ban will deliver a public lecture in Dhaka University while the university authority will confer the UN secretary general an honorary Doctor of Laws degree through a special convocation. President and Chancellor of DU Zillur Rahman will attend the convocation.
UN office in Dhaka sources said the UN secretary general will visit a health centre at Moulvibazar district, which is working to reduce child mortality.
Reducing child mortality is one of the eight goals set by the United nations. Known as Millennium Development Goals (MDGs) these are expected to be achieved by 2015. The goals are -- eradication of extreme poverty and hunger, achieving universal primary education, promoting gender equality and women empowerment, reducing child mortality, improving maternal health, combating HIV/AIDS, Malaria and other diseases, ensuring environmental sustainability, and developing a global partnership for development.
Ban will also hold talks with political leaders, including opposition leader Khaleda Zia, and civil society members on democratic system and institutions in Bangladesh.
This will be his second visit -- the first one was in 2008 -- to Bangladesh as the UN chief. Ban, the eighth secretary-general of the United Nations, is running for a second term.