WikiLeaks Reveals US Cables
Yunus wanted to resolve row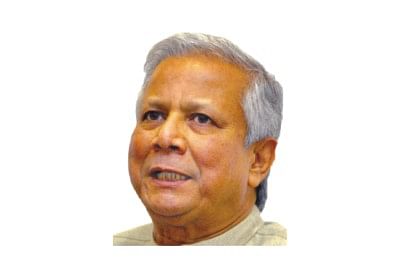 Prof Muhammad Yunus wanted to resolve any misunderstanding with Prime Minister Sheikh Hasina regarding Grameen Bank and his efforts, but he did not receive any appointment even after an urgent request, according to a diplomatic cable leaked by WikiLeaks.
In his August 12, 2009 cables, James F Moriarty, the then US ambassador to Dhaka, said he met with Nobel Laureate Prof Yunus on August 9 to congratulate him on winning the Presidential Medal of Freedom. The noble laureate reported that tensions between him and the prime minister continued but he hoped to meet her to clarify the misunderstandings.
During the meet, Yunus said the tensions with the PM complicated Grameen's efforts to work with the government.
"Yunus perceived that even the supportive government officials felt pressured to distance themselves from his recommendations and proposals," said Moriarty.
Moriarty pledged to continue to encourage Sheikh Hasina to meet Yunus, according to the cables released by WikiLeaks on August 30 this year.
Since the ambassador's last meeting with Yunus, the US embassy in Dhaka has repeatedly urged the PM's advisers to bury the hatchet with the Grameen Bank founder.
In another cable released on the same day, Senior US Embassy official Nicholas Dean said Sheikh Hasina and Foreign Minister Dipu Moni clearly exposed their distrust and suspicion on Yunus in several meetings with senior US government officials.
"While they claimed Yunus is engaged in corruption at Grameen Bank, his microcredit brainchild, his ties with the last caretaker government and brief contemplation of a role in Bangladesh politics are more likely the reasons for Awami League disdain," said Dean in his November 30, 2009 cable.
During the tenure of the caretaker government (CTG) in 2007-08, some of the military personnel who backed the CTG approached Yunus about setting up of a political party as an alternative to two leading parties, Awami League and Bangladesh Nationalist Party (BNP).
Yunus though briefly entertained the thought of joining politics but quickly decided that he and Grameen Bank were better off remaining outside the political scene.
Following the December 2008 national elections that swept Awami League into power, it soon became clear the new government was not interested in helping Prof Yunus or Grameen Bank, the confidential cable read.
Fearing that the displeasure with him could jeopardise Grameen Bank and his other initiatives, Yunus requested the then US ambassador to put in a good word with the PM on behalf of Grameen and Yunus.
On November 5, 2009, Moriarty in a meeting with Sheikh Hasina highlighted the upcoming visit of Melanne Verveer, ambassador-at-large for Global Women's Issues. He told her that Verveer was also interested in meeting with Yunus, suggesting that improved relations between the government and Yunus would be good for Bangladesh.
At this, the prime minister theatrically rolled her eyes and shook her head. She spoke at length about her estrangement from Yunus and nodded in agreement when one of her advisors characterised Yunus as ungrateful for the GrameenPhone deal that the prime minister had made possible.
Hasina concluded the subject of Yunus by saying, "Perhaps we don't work together. But we don't stop him. When I was in Sweden (recently), Yunus was there and we exchanged hands. It is our family tradition."
During Verveer's November 11 meeting with the premier, the visiting envoy noted Grameen's good work and Prof Yunus' plans to start a nursing school in Bangladesh. The PM said healthcare was a top priority and the government would support anyone wishing to establish a nursing school.
The next day when Verveer had an hour-long one-on-one session with Foreign Minister Dipu Moni, the minister presented a range of complaints against Grameen Bank and Yunus. She mentioned about Grameen's high interest rates and alleged that the bank used "vicious methods" to recruit customers and obtain loan payments.
According to the cable, the foreign minister claimed that Yunus broke rules and Grameen did not comply with Bangladesh law, including auditing requirements. She said many people in Bangladesh were upset when Yunus won the Nobel Peace Prize given his corrupt practices.
She also said the government leaders understood the power of Yunus' international reputation and therefore "bite our tongues" when accolades were heaped upon him. On a personal note, the foreign minister also complained that Yunus did not visit Sheikh Hasina in the hospital when she was injured in a 2004 bomb attack.
Verveer and Moriarty met with Yunus on November 11. During the meeting the ambassadors relayed the government complaints to him. Yunus disputed all the allegations. According to him, he and Grameen complied with all laws, including annual audits.
He said the PM's attitude was "if you are not with me, you are against me".
Yunus said he had hoped someone would be able to mediate on his behalf; however, he understood the difficulty in doing so as the premier and the foreign minister were not willing to meet him.
On the other hand, BNP Chairperson Khaleda Zia adopted a much friendlier tone towards Yunus, which led some to accuse him of harbouring BNP sympathy, according to WikiLeaks' cable.
Despite the wide-ranging claims of Yunus' misdeeds by the PM and FM, their biggest problem with Yunus is likely connected to his brief contemplation of politics. That foray, however short, is proof in their minds that Yunus -- backed by his millions of borrowers -- seeks to usurp them.
Yunus said he had hoped someone would be able to mediate on his behalf; however, he understood the difficulty in doing so given that both Sheikh Hasina and FM Moni were not willing to meet him.
"The unwillingness of the prime minister and the foreign minister to accept positive statements about Yunus from us means that for the time being we must find other ways to support the work of Grameen," Dean said in his cable.
"Perhaps our efforts are best directed at specific Grameen projects, many of which include US companies or organisations as partners. We will also continue to work with potential mediators such as PM's Foreign Policy Advisor and long-time Yunus confidante Dr Gowher Rizvi," he said.
"This dispute also raises questions about the long-term future of Grameen Bank. Yunus is 69 years old. He told Moriarty and Verveer he had offered to retire on a number of occasions, but the bank board had refused his offers, claiming there would be a run on the bank if he left.
"Yunus said he had been grooming a successor, but claimed GOB leaders had wooed that person into their camp and now he was working against Yunus within the bank. If Grameen Bank is to continue transforming lives as it has for the last two decades, Yunus and the bank must find a way for Grameen to keep working even after Yunus is gone," said the senior US official.