Ruling the 50s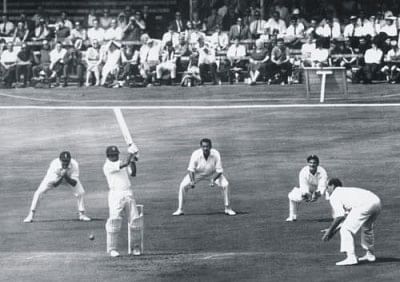 By the early 1950s, cricket had become a serious sport among many Commonwealth countries and with Pakistan playing their inaugural Test in 1952, the elite group now had seven members.
Their entrance was marked by Hanif Mohammad's 16-hour special 337 against West Indies in Bridgetown. He had to bat in tremendous heat and save Pakistan from a humiliating defeat.
Teammate Fazal Mahmood wrote in his book From Dawn to Dusk, "It was the true test of a batsman and making of a master." Two years later, he would score the highest first-class score, 499, being run out while attempting his 500th run.
The old forces, Australia and England, remained the most talked-about sides with new stars coming through after the Second World War. England lost in Don Bradman's last Ashes but after conceding one more (1950-51), won the next three. At the peak of their dominance during this period, Bradford-born off-spinner Jim Laker delivered what most call the 'perfect' performance. On a tacky surface at Old Trafford, he bowled Australia into dust in the first innings (84 all out) with 9-37 from 16.4 overs.
To make matters a little more superhuman, he bowled 51.2 overs to pick up all ten wickets in the second innings. What was even more fascinating about his work was that Tony Lock, an accomplished left-arm spinner, bowled 55 wicketless overs from the other end on a raging turner.
What would interest viewers today was his demeanour after each of his wickets. He would turn back on his heels and chat with the umpire before the next batsman came in. The story goes that Laker was so understated as a person that nobody even recognized him when he walked into a Manchester pub after his 19-wicket haul.
Bowling from round the wicket, he would time and again toss up the ball and the likes of Neil Harvey and Keith Miller had no answer.
Miller, though he made just 6 and 0 in this game, had earlier established himself in the hearts of Australians with his debonair all-round skills but more poignantly, his valour in the War.
Nicknamed Nugget, Miller was a fighter pilot and survived many close shaves and hence, his famous line, "Pressure? Jeez! A Messersschmitt up your a***, that's pressure."
Miller was the original heartthrob to Don Bradman's quest for perfection. He often rose to the occasion, simply because it never got the better of him.
He formed part of a great new-ball combination with Ray Lindwall that added to the all-conquering 1948 Invincibles. His 36 and 22 average with bat and ball respectively meant that he was the first great Test all-rounder.
Two years before Miller's retirement, Richie Benaud made his Test debut. In his 12-year career as a leg-spinner, the Penrith-born made a slow start to his career but took over Miller's mantle in South Africa three years later and was the captain who won back the Ashes for Australia the next season.
As a leg-spinner, he took 248 wickets and possessed a fine googly. His unruffled exterior often calmed down players in the heat of battle.
While Miller and Benaud inspired with their skills, Hanif was Pakistan's first great batsman. Laker embodied the quiet exterminator, a breed that has always eluded England since then.
-Mohammad Isam