Nurturing Bengali Cultural Nationalism
In conversation with Dr. Sanjida Khatun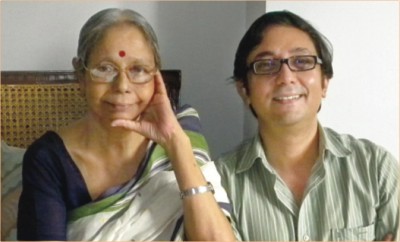 Dr. Sanjida Khatun [along with the late Waheedul Haq and many others] is one of the principal architects and leaders of the Bengali cultural nationalist movement in this country. Along with Haq and other comrades, she founded the Bangladesh Mukti Sangrami Shangsthan and Chhayanaut -- a centre for research, teaching and promotion of Rabindra Sangeet and Bengali performing art forms.
In tandem with Jamil Chaudhury, she was the prime mover behind the Bangladesh Rabindra Sangeet Sammelan Parishad, the body that conducts conferences and music competitions across Bangladesh, thereby taking Rabindra Sangeet to the doorsteps of people. She is one of the few remaining Tagore exponents in South Asia, an accomplished singer of Rabindra Sangeet, a teacher, researcher, thinker, writer and most importantly an institution builder.
As the 150th birth Anniversary of Rabindranath Tagore approaches, I thought it would be appropriate to have an insight into the life and achievements of this living legend. Excerpts from the interview:
What do Tagore and Rabindra Sangeet mean to you?
Sanjida Khatun (SK): While teaching Bangla literature and Tagore to college students, I discovered that Tagore's writings were very relevant to our country then. Much earlier, during the Indian freedom struggle, Tagore had cautioned his countrymen. According to him, before the country could free itself from the British, people needed to "free and liberate themselves from within," otherwise the British would go, but they would be taken over and dominated by some other external force. We realised that it was so true for us at that time. He was so right; we were an independent nation, yet we were oppressed [by erstwhile government of Pakistan]. Tagore therefore became everything to me -- the guiding spirit of my life and work.
Tagore and his work naturally became the main inspiration for the Language Movement; we fought against the imposition of Urdu, a foreign language, on the Bengali speaking population. Songs like "Amar Shonar Bangla" and "Sharthok Janomo Amar", which would be sung by us and my younger sister [Fahmida Khatun, who was already an established and popular singer then], became rallying points for the Language Movement. Chhayanaut did not rally people on the streets; we did not shout slogans against the oppressive regime.
Can you share some of your early memories around Chhayanaut -- the joys and sorrows; the obstacles and challenges that you faced?
SK: It was "ananda" -- sheer joy all through, although we faced formidable challenges. One of the earliest events we organised was a recital of old and long forgotten Bangla songs, starting from Bidyapati [14th century Vaishnav poet whose poetry had a major influence on the evolution of Bangla language] to songs of Himangshu Dutta. Then we organised 'Sharadotshab' -- autumn festival that would be held early in the morning. Children would make small boats, fill these with the Sheuli blossoms and set them afloat in the lake. They would then feast on different kinds of naru [traditional Bengali sweets made of various combinations of molasses with grated coconut/roasted sesame seeds/rice crispies etc]… It was a different experience altogether! Then we organised the 'Bashanto Utshab' -- the festival heralding the spring: we performed songs, dance and recitations on the season. All this gave us so much joy!
But we faced major obstacles as well. As I mentioned earlier, I used to teach Bangla literature at Dhaka University and I was transferred to a college in the remote district of Rangpur [considered then a "punishment posting"] in north Bengal. At that time we did not have the bridge over Jamuna. So it took the full day and an arduous journey between Dhaka and Rangpur. However that did not deter me -- whenever I got time, I would travel to Dhaka and conduct cultural events of Chhayanaut. I knew that the government was very angry with me -- yet I did not buckle under pressure. I was determined and the establishment could not put me down, how so ever hard they tried. I suffered a lot. I had three very young children then. I would often leave my children behind for my work. I just did not give up. We all had this determination.
From the previous discussions I've had with you, it comes across that you view culture from a holistic perspective. Can you tell me how this vision is reflected at Chhayanaut and its activities?
SK: We don't just teach Rabindra Sangeet at Chhayanaut. We teach songs of five major poets-songwriters of Bengal -- Tagore, Nazrul, Atul Prasad, D.L. Roy and Rajanikanta. We also teach folk songs and you know that Bangladesh has a very rich and diverse folk music tradition. We also have a department of dance, classical music and instrumental music. Chhayanaut also runs regular courses on music appreciation which you have yourself attended. We have opened a course for young children called 'Shekor' [roots].
I have also been closely associated with the Bratachari movement [started in undivided India by Gurusadai Dutta way back in 1932] and it has been introduced at Chhayanaut for children. Bratachari is aimed at raising the self-esteem and national awareness among people irrespective of religion, background and gender.
For adults, we have started a course called 'Bhashar Alap' [language discourse]. We have a special programme for children with autism in which children draw and paint, sing and also learn to dance. Finally, Chhayanaut also brings out a tri-monthly journal on Bangaldeshi culture.
We have the Rabindra Sangeet Sammelan Parishad which I set up along with Jamil Chaudhury from Bangladesh TV. The conference is held in different parts of the country -- this is basically a conference that provides a forum for artistes to perform, not just Tagore songs, but all other kinds of music of Bangladesh. You are aware that Tagore was highly influenced by the exceptionally secular and non-sectarian philosophy of the Bauls [mystic minstrels from Bengal, who constitute both a syncretic religious sect and a musical tradition]. Through these conferences and through the entire gamut of Chhayanaut's work, we try to propagate non-sectarian values amongst the masses.
I was done with my questions but my heart was not fulfilled yet. We requested Sanjida Apa to sing for us and she obliged. "Keno je mon bhole, amar mon jane na" [why do I lose myself I know not]. At 77 and with frail heath, Apa had not lost her magic.