Kolkata's retail story
The eastern Indian city is fast becoming the hotspot for retail giants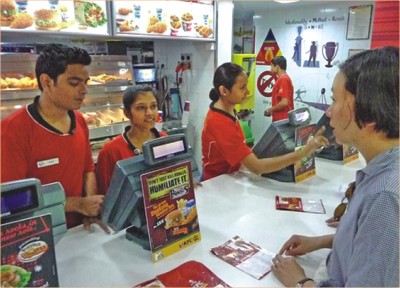 The retail industry in Kolkata is on the growth track. In the last five years, the eastern Indian city has been the silent witness to many malls and retail outlets. First there was the City Centre in Salt Lake. This 550,000 square feet mall changed the retail map of the city with big names like Reebok, Planet M, Arrow Lee, and Wrangler setting up shop here. Even the US fast food chain KFC made its first foray into the city in this sprawling mall. Harsh Neotia, the managing director of Bengal Ambuja Housing Development Limited, who set up City Centre, did not stop at this. He set up another City Centre, which is popularly known as City Centre-II in Rajarhat. The 450,000 square feet mall is also a popular haunt among shoppers. Soon there were others that followed suit like South City mall, Forum and Avani Heights. Planet M, too, has its retail holding in Kolkata.
It's obvious that Kolkata is turning out to be the favourite destination for retailers; the primary reason being it is a metro with a large population. Around 80 percent of the people are either landowners or pay small amount of rent under the old tenancy act. That means they do not have to make large payments as rent. Another interesting trend is the boom in IT companies in Kolkata. The executives of these multinational companies earn as much as their counterparts in the other parts of the country. However, as the cost of living is cheap, they have a large amount of disposable income, which is usually spent on shopping. Also many families have double income -- that means more earnings that can be splurged on. If surveys are anything to go by, then an average Kolkatian spends more than Rs 2,000 during every visit to a shopping mall. About 12 percent spend even higher -- Rs 5,000 per visit. Neotia says, "The retail industry has seen some healthy growth in the recent past. That's because most shopping malls have become the perfect destination for those who are looking for a dose of entertainment and shopping."
Quick to cash in on the craze are the retail giants like Pantaloon, Marks & Spencer, The Body Shop, Planet Sports and others. Pantaloon started operations in Kolkata in 1997 with 13,000 square feet of retail space. Today, it has three giant stores over a sprawling 100,000 square feet space. In fact, one of the brand's largest stores is in Kolkata.
The Merlin Group has also promoted one of the eastern region's biggest malls -- South City. The Rs 700 crore project is a popular shopping destination for people in south Kolkata. There was a need for entertainment complexes in Kolkata, and so South City Mall that houses various retail giants like Marks & Spencer, Planet M, Biba will cater to the shopping needs of the people. A specialised mall was set up for home furnishings and fittings in Rajarhat. Home Town is also emerging as a popular destination for shoppers. The specialised malls will be the future trend; another instance being that of Fort Knox. This has been set up by Vivek Kathotia of Fort Group. Entrepreneurs like Kakothia observe that Kolkata will see at least five big specialised malls of 300,000 square feet area.
The 30,000 square feet retail space of Avani Heights on the posh AJC Bose Road of Kolkata is a new landmark. Many global players like Marks & Spencer, Bodyshop and Planet Sports have set up shops here. Marks displays a complete range of lingerie, toiletry and fashion apparel in this outlet. Avani Heights has been targeting the high income customer segment. Even Guess has launched its first brand store in Avani Heights. "Each brand has its unique positioning and each of them caters to the needs of the well-heeled people of Kolkata," says Neotia. The entrepreneur also observes that the retail growth will continue in the years to come. "However, the format needs to be correct. There has to be parking spaces for cars; also the location is very important." In fact, Neotia plans to come up with two more City Centres, one each in Siliguri and another in Haldia. It is obvious that the retail growth will continue in the years to come.
The writer, based in Kolkata, is a freelance contributor.