Qayyum Chowdhury Turns 79
Birthday celebration at Bengal Gallery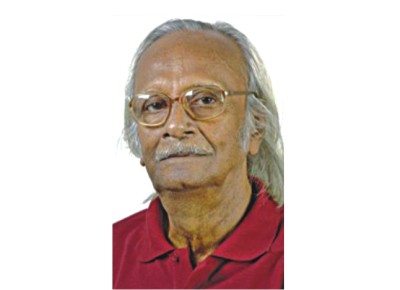 Qayyum Chowdhury is one of the most renowned painters of our country. He has made an enormous contribution to the enrichment of Bangladeshi art. He is also a social activist. On his 79th birthday [today], Bengal Foundation is hosting a celebration programme at Bengal Gallery of Fine Arts, in Dhanmondi, Dhaka.
Chowdhury was born in 1932 in Feni. He graduated from Govt. Institute of Arts (now Faculty of Fine Arts, University of Dhaka) in 1954.
Chowdhury's works delve deep into rural Bengali life and traditions. Most of his paintings highlight folk elements, especially rural women. The artist incorporates the essence of folk motifs in most of his works. Animals, birds, fish, wild flowers and greenery are recurring objects on his canvas.
In his works, the skillful handling of colours and movements of the subjects are exceptional and the canvases are marked with diversity.
Chowdhury is also recognised for his illustrations and has done many illustrations for books, newspapers, literary journals and little magazines.
The artist has held four solo exhibitions and he has participated in many group exhibitions at home and abroad.