ICC Cricket World Cup 2011
<i>Star behind the curtain </i>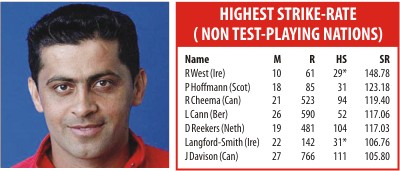 Canada batsman Rizwan Cheema may not be a household name in world of cricket or he may not be as successful as Adam Gilchrist, Virender Sewhag, Yusuf Pathan or Shahid Afridi, but one aspect where he surely draws comparison with these greats is the whirlwind style of his batting.
The 32-year-old batsman even beats his illustrious counterparts when it comes to speed at which he scores runs. Cheema's strike rate of 119.40 puts him amongst the top three players from ICC Associate Members and above any one from the Test-playing nations.
Cheema made a brilliant start to his ODI career scoring a 24-ball 34 against Bermuda and following it up with two blitzkrieg knocks against the West Indies (89 off 69 balls and 61 off 45 balls). He narrowly missed a hundred in his fourth match when he scored 96 runs off just 69 balls against Netherlands.
However the Pakistan-born batsman has hit a lean patch since scoring a match-winning 31-ball 61 against Afghanistan. And now he thinks is the right occasion to get back into form as he draws inspiration from those vivid innings.
'Everyone goes through bad patches in their career. I had a problem with my elbow which contributed to my dip in form. But I know what I need to do and that is work hard on my batting. The captain and the coach have faith in me, and I am confident of getting back to form strongly," he said.
"Getting runs against a Test-playing nation is always good and boosts yours confidence greatly to play at the highest level. I am looking forward to scoring a hundred in my debut World Cup and hopefully continue it," said Cheema on Monday after toiling hard for almost three hours in the nets at the Fatullah Cricket Stadium.
To give an indication of how explosive he can be, Cheema sent the balls over long-on and long-off field several times before smashing one outside the stadium. But Cheema claimed that hitting is just one of the facets of his batting, and he can be a good accumulator as well, if the need arises:
"I can be different type of batsman altogether, rotating strikes if the situation demands. It can be tough to cope with the new ball, but I like that challenge and am enjoying it."
Cheema migrated to Canada in early 2000, and feels proud to be part of the Canadian cricket team, and even dreams of beating Pakistan, his country of birth, in the World Cup group match.
"I am living in Canada for more than 10 years now and have been playing for Canada, which I take pride in. So, I don't hope to go back to Pakistan anymore.
"You can't compare your home country with other nations. Thing is that any team, any country you play for is your team and your country and I want to win for Canada, even against Pakistan," said Cheema, whose sees Imran Khan as his cricketing idol and is inspired by everything Imran says.