Implications of Sarkozy's visit to India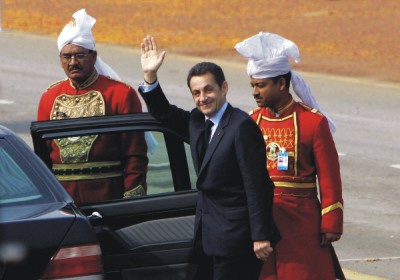 In 2008, French President Nicolas Sarkozy visited India without his partner. This time from December 4-7, Sarkozy was accompanied by his wife, Carla Brunimuch to the Indian media's delight
Many say Carla Bruni has a tough act to follow. Last month, during US President Barack Obama's visit to India, First Lady Michelle Obama won hearts across the country by performing impromptu dances with school children.
Sarkozy's visit comes after those by British Prime Minister David Cameron and US President Barack Obama in recent months, and will be followed in swift succession by Chinese Premier Wen Jiabao and Russian President Dmitry Medvedev.
In less than two months, Prime Minister Manmohan Singh would have met four heads of nuclear states, all permanent members of the UN Security Council.
The visit of Dr. Manmohan to France in July 2009 helped India to review certain very important issues, particularly civil nuclear cooperation, defence and the strategic and political dialogues. The visit of the French president was to build on the continuity of the engagement at the highest political level.
In addition to Dr. Manmohan Singh's visit to Paris in July 2009, the two leaders met in Port of Spain in November 2009, in April 2010 in Washington, and then during the G-20 Summit in Seoul last month.
Sarkozy, accompanied by a bevy of ministers and a large delegation of business leaders, will lobby for multibillion-dollar contracts for fighter jets and nuclear technology, an industry in which France has a leading position.
The French president commenced his visit in Bangalore, where he visited the Indian Space Research Organisation. In his address there, President Nicolas Sarkozy called for a permanent seat for India in the UN Security Council.
He said it was "unthinkable" that a country of a billion people should have no representation in the Security Council. He further said that India's recent election to the Security Council for two years (2011-12) "must serve as the prelude to a permanent Indian presence within the UNSC."
France hoped to take in three times the number of Indian students in its universities by 2012 compared to 2007. Sarkozy said: "France wishes to expand ties with Indian universities, and wants to host more Indian students."
Senior officials said that the French leader made a case for French defence companies to India. The Indian armed forces are currently procuring weapons from Russian, Israeli and US companies. To boost French economic and employment recovery amid Europe's debt crisis, Sarkozy has pushed for sales of submarines.
France was India's fifth-biggest trading partner in 2009. French-Indian trade in the first nine months of this year was worth $7 billon.
France has been struggling to keep its position as fifth largest arms seller to India, behind Russia, Israel, the UK and Germany, according to data collected by the Stockholm International Peace Research Institute.
India has increased defence spending partly in response to China's military build-up. A report in January by the New Delhi office of accounting firm KPMG and the Confederation of Indian Industry showed that the defense ministry budget is $32 billion for 2010. India plans to spend $112 billion over the next six years to renew or upgrade equipment.
French arms purchases "are something that India is very open to because there is a strong desire that we should not put all of our eggs into one basket," said Nivedita Das Kundu, a research fellow on Indian foreign relations at the government-backed Indian Council of World Affairs in New Delhi.
Sarkozy reportedly sought to advance talks on an Indian Air Force tender from 2007 to buy 126 warplanes worth $11 billion, the world's biggest fighter-jet purchase in 15 years.
Paris-based Dassault Aviation SA, with its Rafale, is competing with Chicago-based Boeing Co, Lockheed Martin Corp, Stockholm-based Saab AB, European Aeronautic, Defense & Space Co, which has headquarters in Paris and Munich, and Moscow-based OAO United Aircraft Corp.
The French president had also been pitching for new nuclear energy contracts while stressing his hosts' increased power in world affairs. "We all know how critical it is for India to ensure its energy security," Sarkozy said in a speech at the Indian Space Research Organisation in the southern Indian technology and IT hub Bangalore.
Stressing that he welcomed a US-led deal in 2008 to free up trade in nuclear technology with India, Sarkozy said France was "proud" to be accompanying the country in its quest for greater atomic power.
India's environment ministry last weekend gave clearance for a project worth an estimated one trillion rupees ($22 billion), which will see French state nuclear company Areva supply six third-generation pressurised water reactors.
Meanwhile, on December 4, Indian villagers protested at the site of a nuclear power plant to be built with French help, campaigners said.
Greenpeace energy specialist Lauri Myllyvirta said that at least 10,000 people had turned out to oppose the construction of the facility at Jaitapur in western Maharashtra state amid a heavy police presence.
Sarkozy is the latest in a long line of world leaders beating a path to India, the world's second-fastest growing major economy. Like Cameron and Obama before him, Sarkozy emphasised India's increased influence in the world, which analysts say stems from its fast-growing economy and its resistance to the global financial crisis.
Barrister Harun ur Rashid is former Bangladesh Ambassador to the UN, Geneva.