First foreign secy Fateh passes away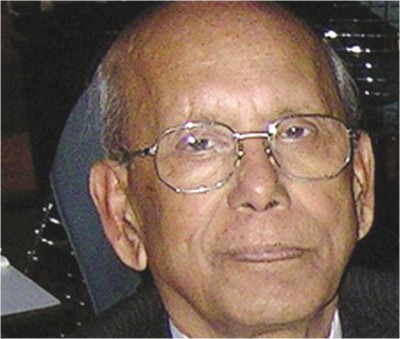 The country's first foreign secretary and the senior most diplomat in the Mujibnagar administration AFM Abul Fateh passed away yesterday at 7:45 in London of natural causes.
He leaves behind his wife Mahfuza, two sons, two grand-daughters and a grandson in London.
Born 1924 in Kishoreganj, Abul Fateh passed his Matriculation exams from Ramkrishna High English School in Kishoreganj in 1941. After passing his Intermediate exams from Ananda Mohan College in Mymensingh in 1943, he studied Masters in English Literature at Dhaka University in 1947.
He joined the first batch of Pakistan Foreign Service trainees in 1949 and attended London School of Economics' training in 1951. Then he was sent to Paris as third secretary in the Pakistan embassy. He received his first posting as ambassador, at the Pakistan embassy in Baghdad, in 1970.
After the Pakistani military crackdown in March 1971, Fateh received a request from his friend Syed Nazrul Islam, the acting president in the Bangladesh government-in-exile, to join the Liberation War.
At about the same time, in July 1971, Fateh fled Iraq with his wife and sons across the border into Kuwait, from where they took a plane to London to avoid Pakistan government's summons to attend a conference in Tehran of regional Pakistani ambassadors. Before leaving for London, he had cleared out the Pakistan embassy bank account in Baghdad to the benefit of the Bangladesh government.
The announcement of Fateh's defection to the Bangladesh cause marked the first time a full ambassador had joined the fledgling Bangladesh diplomatic service. The military regime in Islamabad was furious with the news and their request to extradite Fateh from London was rebuffed by the British government.
The Mujibnagar government made him ambassador-at-large. He had a leading role, as the Bangladesh movement's senior-most diplomat, in a delegation under Justice Abu Sayed Choudhury which went to the United Nations in New York to lobby for the Bangladesh cause.
He was one of the first high officials to reach Dhaka after its liberation, and was quartered with other senior officials in Bangabhaban until January 1972. He was also the highest Bangladeshi official in Dhaka until the acting president and cabinet arrived after independence. Already the effective head of the incipient Foreign Service, he became Foreign Secretary at the end of 1971.
In 1972, he took up the position of Bangladesh's first ambassador in Paris where he stayed till 1976. The early part of this posting involved extensive travels in Africa to persuade African governments to recognise the independence of Bangladesh. In 1973 he represented Bangladesh at a Commonwealth conference for Youth Ministers in Lusaka.
In mid-1975 he was selected to be high commissioner in the UK, which post he took up in early 1976. His two years in London (1976-1977) saw him chairing the Commonwealth Conference on Human Ecology and Development and the Bangladesh government approved his recommendation that dual citizenship be permitted.
Retiring in 1982, he lived with his wife in Dhaka for ten years before they settled in London to be near their sons.