Khaleda warns against giving transit to India
Says no foreign vehicles will be allowed to use Bangladesh territory; asks govt to scrap all recent deals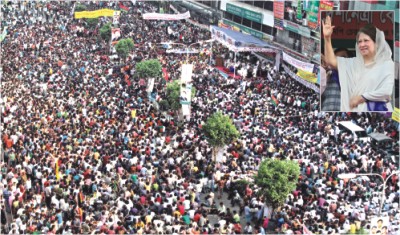 Demanding cancellation of the recently-signed deals with India, BNP Chairperson Khaleda Zia yesterday said no foreign vehicles would be allowed to use Bangladesh territory.
"Earlier, they [government] said Bangladesh will be Singapore and crores of taka will be earned. But now we hear India will not pay any duty against transit facilities," she told a rally organised to mark the "National Revolution and Solidarity Day".
Also leader of the opposition, Khaleda asked the government to scrap immediately the "transit deal" with the neighbouring country. She said she would resist the government's anti-state activities even if it costs her her life.
BNP activists turned up in droves to attend the rally in front of the party's Nayapaltan headquarters in the capital.
Carrying banners, festoons and portraits of Ziaur Rahman, Khaleda Zia and Tarique Rahman, they cheered and clapped as the former prime minister took on the stage at 3:15pm.
It was, however, a different story for commuters in Nayapaltan and adjacent areas. They remained stuck in gridlock for hours, as the rally-goers packed into the thoroughfare between Paltan Police Station and Nightingale intersection.
In a speech punctuated by applause, Khaleda said she will announce fresh anti-government programmes after Eid, and urged all to unite in her party's movement to "save the country".
Accusing the Hasina administration of politicisation in every sector, she said all appointments made on political considerations will be scrapped once BNP is voted back to power.
The BNP chief alleged that this government is doing things for others, and has failed to implement a single electoral pledge.
"Giving India transit, corridor, and Chittagong and Mongla ports was not in their [AL's] election manifesto. But this is what they are now busy doing.
"They are not giving free fertiliser, ensuring job for at least one in every family and reducing the price of rice to Tk 10 a kg, though they had pledged all these before the election."
Khaleda said those who once said Bangladesh would be Singapore if it gave transit to India should now be sent to Hemayetpur (in Pabna town, known for the only government mental hospital in Bangladesh).
"We will resist the move to turn Bangladesh into a state of India," she said asking the government to restore the country's dignity by scrapping the deals with India.
During Prime Minister Sheikh Hasina's visit to India early this year, Dhaka and New Delhi signed three agreements on fight against terrorism and organised crime, and mutual transfer of convicted prisoners.
The joint communiqué issued after the tour said Bangladesh would allow use of Mongla and Chittagong sea ports for transport of goods to and from India. Nepal and Bhutan too would be given access to Mongla and Chittagong ports.
In her yesterday's address, the BNP chairperson blasted the government also for not holding yet the trial of those responsible for the killings at BDR Pilkhana headquarters in February last year. She added the trial must be held one day and the real culprits punished.
"The government is issuing work orders for rental power plants in favour of their party men at a high price," she observed.
Khaleda said if the government does not quit, the people will force it out of power.
Warning the authorities, she said the section 144 would be breached if imposed to foil the opposition's peaceful programmes.
City Mayor Sadeque Hossain Khoka chaired the rally addressed among others by senior BNP leaders Khandaker Delwar Hossain, Khandaker Mosharraf Hossain, Moudud Ahmed and Mirza Fakhrul Islam Alamgir, Islami Oikya Jote leader Mufti Fazlul Haq Amini and Jagpa leader Shafiul Alam Prodhan.
Earlier in the morning, BNP leaders and workers led by Chairperson Khaleda Zia laid wreaths at the grave of late president Ziaur Rahman at Sher-e-Bangla Nagar in the city.
The rally was part of the party's 10-day programme to observe November 7.