Local tanners eye bright prospect as US, EU quitting leather processing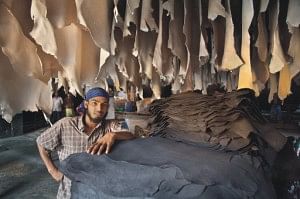 As most of the European countries and USA are discontinuing leather processing considering it an environmentally hazardous job, Bangladeshi tanners eye to cash in on this opportunity.
Businesspeople involved in local tannery industry said if the government liberalises the process of importing rawhide from Europe, USA and India, the industry will certainly witness a boost within a short time.
President of Bangladesh Tanners Association (BTA) M Harun Chowdhury said, "Most of the European countries and USA are discontinuing leather processing, as leather industry is an environmentally hazardous one."
Bangladesh can exploit the opportunity if the government liberalises the import process of rawhide, he said. China alone imports over $14 billion worth rawhide per year and exports over $35 billion finished leather products.
"If the government allows import of rawhide without any barriers, the industry will be able to process around US$500 million hide now to export worth US$ 1.0 billion finished leather within next two fiscal years," said Ehthesamul Islam Imran, a rawhide processor.
He said currently only nine export-oriented factories who have bonded warehouse can import rawhide.
The BTA has recently submitted a proposal to the government demanding duty-free import of rawhide from across the world especially India.
"Muslims are many in some Indian states from where Bangladesh can import rawhide after Eid-ul-Azha, but barriers in import through land ports cause difficulty. The government should intervene in the problem," demanded the BTA in the proposal.
After relocating the tannery plants to BSCIC Tannery Industrial City on the Dhaleswari riverbank in Savar the demand for rawhide will increase significantly, said Tipu Sultan, president of Bangladesh Finished Leather, Leather Goods and Footwear Exporters Association.
The previous BNP government in February 2005 initiated the leather industry project, but due to bureaucratic tangles tanners are yet to relocate their factories.
All the tanneries in Hazaribag area and elsewhere were to be relocated to the new site, an area of 200 acres of land, under the project estimated at Tk 175.75 crore.
Industry people said Bangladesh produces over 220 million square feet of leather every year, 80 percent of which comes from sacrificial animals on the occasion of Eid-ul-Azha and the remaining demands are met by import.
In the past financial year ending in June, tanners exported 53.75 million square feet of finished leather to earn $266 million, up by 3.4 percent on the earnings of the preceding financial year. Shoe exporters earned more than $65 million in the financial year 2006-07.
State-owned commercial banks Sonali, Agrani and Janata have, meanwhile, agreed to channel Tk 335 crore in loans to tanners for purchase of raw hides this Eid.
Private banks usually do not finance rawhide procurement as the industry has bad records of loan defaults.