<i>Saarc youths' 'gala event' in Manikganj village </i>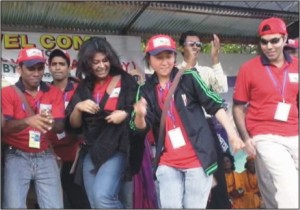 Participants of the Saarc youth camp had a special occasion to celebrate yesterday as they took part in cultural events at Garpara village, some 6-7 kilometres from Manikganj town.
Aged between 16 to 22 years, 107 youths from India, Pakistan, Maldives, Sri Lanka, Bhutan, Nepal and host country Bangladesh took part in the cultural events.
They spent a nice time singing, dancing, flying kite, gossiping, and displaying cultural events.
Several participants talking to this correspondent described their experiences about the Saarc youth camp.
Hina Pandey, a student of Masters of International Relation in Jawharlal Nehru University in India and residence at New Delhi, said India and Bangladesh share similar culture and the Bangladeshi people are very helpful and cooperative.
Dawa from Bhutan, who observed cultural difference between Bhutan and Bangladesh, also found the people of Manikganj very helpful and cooperative.
Aniqa Mainuddin, an A-level student of Bangladesh, said she is proud of being a citizen of the country that hosted Saarc youth camp.
Her country also hosted the first summit of Saarc that was founded following the initiative from Bangladesh, she said.
With the theme 'Connecting South Asian Youth', the Saarc youth camp, first of its kind, began at Savar near Dhaka on Monday to develop communication, cooperation, cultural exchange and fraternity among the youths of the member countries.
It also aims at developing leadership quality among the youths of the region that faces similar crises like unemployment, poverty, illiteracy, inadequate healthcare service, HIV/Aids and drug abuse.
Manikganj Deputy Commissi-oner Ataur Rahman and district officer of Directorate of Youth Development (DYD) Shah Sheikh Mohammad Farid welcomed the participants at11:00am while Deputy Secretary of the Ministry of Youth and Sports Mojibar Rahman Al-Mamun, Director (Planning) of Directorate of Youth Development (DYD) KM Amanur Rahman Aman, President of Manikganj Chamber of Commerce and Industry Mahbubul Alam Runu and NDC of Manikganj Hedayet Ullah and guardians of the youths were present, among others, at the cultural exchange function that ended at 2:00pm.