Column
Bridging the divide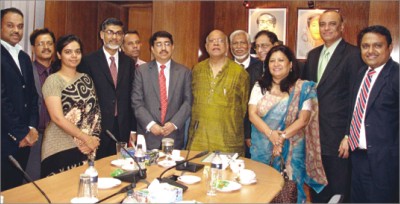 It was hot and humid with an overcast sky. As we stopped to talk to farmers about progress of rice transplantation near Soling More Bazar, at Mowna, Gazipur, the water flowing through the wayside ditch was not the usual mud colour. It was bluish-black, with a disagreeable smell.
In the midst of rice fields, how on earth did this meandering dyed wastewater flow? In the distant horizon, a manufacturing unit was visible, where the dyed waste was being dumped in the open, creating this unnatural sight.
The rice fields were freshly planted, as the arid land seemed to gasp for water to nourish these plants. This is the driest monsoon season we are facing, surely a sign of the advent of climate change. Hope against hope, everyone prayed for rain.
Inviting the farmers to a meeting, we drove over the parched mud road into their nearby village. As we sat down between the bamboo-grove to talk to the assembled farmers, the overcast sky became darker and soon, bright flashes of lightning criss-crossed the sky, accompanied by rancorous thunder. The lightning was stalking us as the thunder got louder and closer. We quickly moved in to a farmer's house, settling in his veranda as the crackling thunder finally brought in the welcome downpour as we silently prayed our thanks for this half an hour of deluge.
With the garments sector contributing substantially to our foreign exchange earnings, have we become oblivious to the ravages we are pressing on nature, as the waste water illustrated? Are we short-changing our future as we turn a blind eye to these industrial developments without comprehending the long-term impact of such wastes on our ecology, our agriculture?
As Bangladesh grows into a vibrant economy, we need to evaluate the impact of today's decisions that will impact our tomorrows. For this we need professionals to be heard. This is what a recent delegation of Bangladesh MBA Association conveyed to Finance Minister AMA Muhith. Representing a cross section of the economic spectrum, the meeting showcased the contribution, knowledge and expertise MBA holders have in both private and public sectors.
As we explained to the minister that we were not there to ask for a tax break but to share the story of success in both private and public sectors, where MBA holders are contributing through their managerial acumen.
The MBA holders are now a driving force in the corporate sector and play an increasingly significant role in the management of these enterprises. Even in homegrown organisations, owners have realised that only professional management can ensure survival of their enterprises. MBA holders are represented in private and public sectors, and in politics.
Building a resilient and vibrant Bangladesh can take a great leap forward if our government bodies induct professionals in respective sectors. Having hands on experience, MBA holders have the expertise, knowledge and skills to contribute positively in the development of Bangladesh. During this meeting, we sought his help to place qualified management professionals in policy and decision making bodies. This will not only inject a private sector view, it will also help in creating the right awareness of Bangladesh's intent to build up professionalism in growing the economy.
The minister got a taste of the cross section view of development in information technology, legal aspects of human resource, real estate, insurance and banking sectors. He was visibly impressed with our message, the immense wealth of expertise and knowledge we have in various sectors and our desire to contribute to Bangladesh's success. Moreover, this enormous expertise and knowledge resource is available for free.
In his autobiography, Made in Japan, Akio Morita, the co-founder of Sony, writes about the role of government in the promotion of business. Morita explains how the Japanese government encourages business because the government is a major 'shareholder' in businesses by way of slicing away profits through taxes. As such, it is in the interest of the government that businesses thrive. Morita also cites the interest of Prince Charles intervention in setting up Sony plants in the UK. Because of Morita's contribution, he was knighted in 1993.
In contrast, Bangladesh's bureaucracy works on a basis of them and us. As we explained to the finance minister, the country can thrive if we, both private and public sectors work together. We need to bridge this perceptual divide that is hindering progress, our common goal to make Bangladesh an enviable growth economy. As we bade goodbye to our finance minister, we could glimpse at his desire to narrow the private-public sector divide. May his dreams come true.
The writer is the managing director of Syngenta Bangladesh Ltd.