AK Khandker, 25 others honoured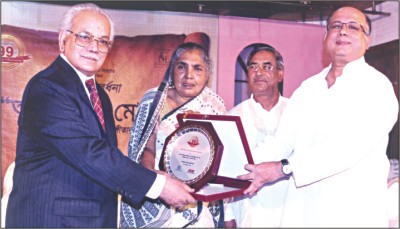 Dhaka Club recently conferred the "Life Time Achievement Award" on Planning Minister Air Vice Marshal (Retd) AK Khandker for his contribution to the War of Liberation as Deputy Chief of Liberation Forces of Bangladesh, says a press release.
AK Khandker, also a member of Dhaka Club, received the award at a function in the club on the occasion of the club's 99th foundation anniversary.
On this occasion, the club also honoured its 25 other elderly members with the award of "Living Legend" who enriched Dhaka Club with their close association for many decades and made remarkable contribution to the society. Recipients of the award are Zahiruddin Ahmed, MA Rouf Chowdhury, Latifur Rahman, Shafquat Hamid, Chowdhury Monwar Ahmed Siddiqui, M Anis-ud Dowla, Dr Muhammad Zahir, Emam Hossain Khan, Tariq Ibrahim, Dr Zaglur Rahman Khan, Tariqul Alam Khan, Shamsul Abedin Akhand, Obaid R Jaigirdar, SA Reza Hussain, CJ Haider, Ghulam Akbar Chowdhury, Md Sirajul Islam, SE Kabir, M Iftekharul Alam, MM Ispahani, Atauddin Khan, Sadruddin H Jewa, FK Ghuznavi, Syed AK Mahmudul Haque and Habibullah Khan.
Agriculture Minister Begum Matia Chowdhury handed over the award as the chief guest. She congratulated the recipients and thanked the club president for honouring the senior members of the club. She lauded AK Khandker for his leadership during the War of Liberation and role that he played to build up public opinion against the forces of anti-liberation forces through the Sector Commanders' Forum.
Dhaka Club President Sadat Hossain Salim in his speech paid rich tribute to AK Khandker and other recipients for enriching the club tradition and significant contribution to the society.
Ramendu Majumder moderated the programme.
Club members and their spouses and guests, including the high officials of UCB, the title sponsor of the event, attended the programme. The programme was followed by a musical soiree by Adity Mohsin.