Cops slammed for custodial deaths
HC issues series of directives to stop crimes, bring culprits to book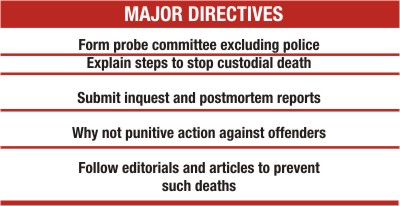 The High Court yesterday slammed the police for custodial deaths, and said such incidents must not recur.
It ordered the Dhaka Metropolitan Police commissioner to turn in a report within two weeks on measures to prevent lock-up deaths.
It also asked him to submit inquest reports on three recent deaths in police custody.
The bench of Justice AHM Shamsuddin Chowdhury Manik and Justice Md Zakir Hossain came up with the orders in response to a writ petition filed by two rights groups.
It directed the home secretary to form within a week a committee comprising officials other than police personnel to investigate the three deaths.
For probe, it said, the committee will take statements from families and neighbours of the victims--Mizanur Rahman, Mujibur Rahman and Babul Kazi.
The three died while in custody of Gulshan and Darussalam police last week.
The court yesterday also asked the government to explain within three weeks why it should not be directed to take punitive actions against the cops who would be found responsible for the death of Mizanur, Mujibur and Babul.
It ordered the officers-in-charge, sub-inspectors and assistant SIs of Gulshan and Darussalam police stations to appear before it on July 19 and explain how the three had died.
Besides, the bench asked the principal of Dhaka Medical College to submit within three weeks post-mortem reports on the deaths.
The law enforcers have no right to kill anyone in custody, not even someone accused of murder, it observed.
It asked the government officials concerned to take heed of the recent editorials and articles published in The Daily Star, Prothom Alo and the daily Jugantor on custodial deaths.
The write-ups, it added, would help them take appropriate steps.
The home secretary, inspector general of police, additional IGP (headquarters), DMP commissioner, and officers concerned of Gulshan and Darussalam police stations have been made respondents to the orders and the rule.
The judges warned DMP Commissioner AKM Shahidul Hoque against making any comments over killings in custody.
Talking to reporters on July 3, the DMP boss said everyone becomes a gentleman when police detain him.
The court requested 11 senior lawyers to be amici curiae (friends of the court) on the issue of custodial deaths.
The lawyers are Rafique-ul Huq, Mahmudul Islam, M Zahir, M Amir-Ul Islam, Moudud Ahmed, Rokanuddin Mahmud, Abdul Baset Majumder, Fida M Kamal, Abdul Matin Khasru, Anisul Huq and Yusuf Hossain Humayun.
Manzill Murshid and Alena Khan appeared for the petitioners--Human Rights and Peace for Bangladesh (HRPB) and Bangladesh Human Rights Foundation (BHRF).
Deputy Attorney General Nazrul Islam Talukder represented the state.
Earlier on June 1, the HC directed the government to put an end to custodial deaths, saying the court will not tolerate such incidents.