Kamal Ahmed's "Phalguner Din-e"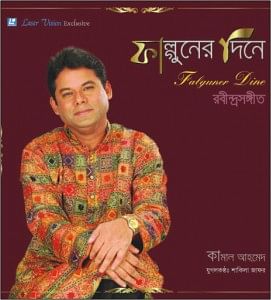 Tagore singer Kamal Ahmed loves to explore the beauty of Rabindra Sangeet. Though he dons the hat of programme manager in BTV, he is also a music connoisseur and enthusiast.
Recently, Laser Vision has produced Ahmed's fourth solo album "Phalguner Diney." Renowned literary critic and cultural personality Mustafa Nurul Islam was the chief guest at the album launch. Noted Tagore artistes Tapan Mahmud, Sadi Mohammad, Sajed Akbar, Salma Akbar and Lily Islam were special guests at the event.
The album features 10 Tagore songs -- "Jodi Tarey Nai Chini," "Tumi Dak Diyechho Kon Shokaley," "Na Go Ei Je Dhula Amar," "Shudhu Jawa Asha," "Emni Korey Jaye Jodi Din," "Ami Keboli Shopon," "Na Chahiley Jarey," "Bhalo-bashi Bhalobashi," "Ami Chini Go Chini" and "Amar Hridoy." Shakila Zafar has lent her voice to two duets -- "Jodi Tarey Nai Chini" and "Amar Hridoy" -- in the album with the artiste. Amit Bandyopadhyay has directed the music.
Featured songs are popular, romantic and melodious. Nowhere does the album mention names of the instrumentalists and music arrangements of four songs -- "Emni Korey Jaye Jodi," "Ami Keboli Shopon," "Na Cha-hiley Jarey" and "Bhalobashi Bhalobashi" -- uncannily resemble those of Indian artiste Indrani Sen's covers. The restrained soprano vocals of Shakila Zafar contrasting with the sonorous voice of Kamal Ahmed somehow misses a smooth musical transition.
Ahmed's previous albums are "Poth Chawatei Anondo," "Nana Ronger Dinguli" and "Shada Megher Bhela."
Ahmed was a former adviser to Rabindra San-geet Shammilon Parishod and was a member of board of director of the cultural wing of Dhaka University Central Students' Union (DUCSU).
"We will never explore the wholeness of Rabindranath just through diffusing his songs only; we must also study Tagore's life, works, thoughts and ideals," Ahmed believes.
The artiste's motto is to help those musicians who cannot record Tagore's songs due to financial restraints.