Invisible people, irregular migrants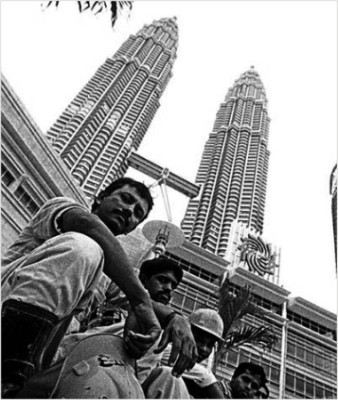 GHULAM sold his father's land and paid an exorbitant sum to an agent to find him a job abroad. On arrival in Malaysia, he found he had been duped. There was no permit and no job. He eventually found work in a factory, but was arrested because he had no papers. He has been languishing for over a year in an overcrowded, sub-standard detention centre outside Kuala Lumpur, awaiting deportation to Bangladesh.
In a dormitory town outside Seoul, Rahim, Sharif and Mujib live in a tiny, dingy basement room. They came to Korea under a temporary work-permit scheme. When their permits expired, they were told to go back to Bangladesh and re-apply.
Still indebted to the recruitment agency and fearing they would not be able to come back, they decided to stay on clandestinely. They earn little, work hard and long hours on an unsafe construction site, have no insurance against accident, and live in constant fear of being rounded up and deported.
The line between regular and irregular migration is a fine one. Some people are deceived by recruiting agents or traffickers into believing they are going abroad to work legally, and are sold into semi-slavery. Others enter a country legally but become "illegal" if they lose their jobs, overstay or change employment. Still others are pushed out of their country by persecution or poverty, and find whatever means they can to go elsewhere.
Most migrant workers perform dirty, dangerous and degrading jobs, but when they have no papers, they are doubly disadvantaged. Exploited by organised crime and smuggling networks, eager to save as much money as possible to send home to their families, fearing detection and deportation, they endure dangerous, unsanitary and abusive working and living conditions.
According to UN estimates, 30-40 million people are irregular -- also known as unauthorised and undocumented -- migrants. They move not only from the global South to the North, but also, increasingly, among developing countries. Some reports claim more than half of all migrants in Asia and Latin America are irregular.
Numbers should be treated with caution, not only because the movements are clandestine but also because vested interests exaggerate or underestimate the problem. Right-wing parties in Europe inflate the problem of irregular migration to play on xenophobic and racist fears and gain electoral support. Indian officials claim migration from Bangladesh exceeds 10 million, while Bangladeshi officials deny any movement at all.
The threat perception -- hordes of irregular migrants invading the country, threatening security and jobs of locals -- has led destination countries to toughen up immigration control. Measures range from strict visa regimes and fines against airlines to "push backs" (India), mass expulsions (Malaysia), naval patrols (European Union), electrified fences (USA) and criminalising the failure to carry immigration papers (Arizona).
In many countries, health workers, police and public officials are obliged to report the presence of undocumented migrants to the authorities. It has the perverse effect of encouraging criminality and endangering public health, because migrants are too afraid to report crimes or seek medical help when they fall sick.
Tightening immigration control without addressing the pressures that induce people to flee has not deterred arrivals. Traffickers and smugglers have found more perilous and circuitous routes at higher financial and human cost.
People suffocate in cargo containers, or freeze to death in the undercarriage of transcontinental airliners. Bodies wash up on windswept beaches or are buried in nameless graves in border towns. Those who survive spend the rest of their lives paying off the debts they incurred to make the journey.
Migration is driven by economic realities. Countries with growing economies need labour. When poor, hardworking individuals cannot find work at home, they go where they can find work. As the global economy becomes more competitive, businesses are cutting costs. Migrant labour is cheap, and irregular migrant labour is cheaper.
Irregular migrants have become pawns in a game of politics and profits. But they are neither commodities to be exploited nor criminals to be punished. They are human beings with human rights. By offering their labour, they make a valuable contribution to the countries to which they migrate. By sending home their remittances, they support the economies in their own countries. They deserve more recognition and protection.
Fundamental international labour and human rights norms apply to all migrants, whether or not they have legal status. The UN Convention on Migrant Workers explicitly addresses undocumented as well as documented workers, but is the least ratified of the major human rights treaties.
Source countries like Bangladesh are reluctant to raise migrant rights issues for fear of upsetting labour-receiving countries. As one senior Bangladeshi official put it, the priority is employment and remittance, not human rights.
That is a short-sighted approach. When citizens of one country are abused in another country and left without recourse, bilateral relations are strained. When business exploits irregular migrants, it distorts the economy, creates social tensions, feeds racial prejudice and impedes prospects for regular migration. Protecting the rights of migrant workers -- regular and irregular -- makes good economic and political sense for all countries -- whether source, destination or transit.
As a major source country, Bangladesh should ratify the UN Migrant Workers Convention. It should also be more forthright in denouncing immigration control measures that violate human rights -- such as the killing of border crossers by Indian security forces or the indefinite detention of "illegal" migrants in inhumane conditions.
The government should clamp down on corrupt and predatory practices that push people into illegality and exploit their vulnerability. It should engage with civil society and migrant organisations to better regulate recruitment agencies. It should make recruitment practices and processes more transparent through mass information campaigns.
During her recent visits to Korea and Malaysia, the prime minister asked her hosts to take more migrant workers from Bangladesh. These countries already have large numbers of long-staying irregular Bangladeshi workers -- why not regularise them? They have gained the language skills and experience of working in the host country and would not need to be trained like new workers. Regularisation would cost less than deportation.
Irregular migrants are a hidden economic asset. They have rights. Let's end their invisibility.
Irene Khan is an international human rights advocate and Consulting Editor of The Daily Star.