Day One Of National Athletics
Sajib sets new record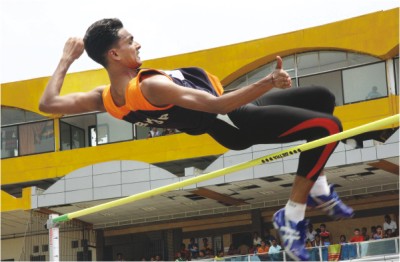 Youngster Sajib Hossain set a new national high jump record by clearing 2.11 metres as he won gold in the men's event on the first day of 35th National Athletics Championships at the Bangabandhu National Stadium yesterday.
The HSC examinee from BKSP, who sat for his latest exam on the 27th and will have the next on the 10th of next month, bettered his own previous mark by 0.01 metres, set at the SA Games earlier this year where he had finished fourth.
Sajib's effort was 0.16 metres higher than his BKSP-mate Masud Kaisar and 0.21 seconds better than Junaed Biswas of Bangladesh Army. The young athlete said that he was so much absorbed by the illness of his father that he did not even realise instantly that he had set a new record or it was a gold medal at all.
A total of sixteen events were decided on the opening day of the two-day meet. The other notable performers on the day were national women's hurdles champion Sumita Rani, national women's 200m champion Nazmun Nahar Beauty, new men's 200m champion Khalilur Rahman. Rawshon Ara Putul of Ansar and VDP won two individual gold medals, one in 800m and the other in 3000m.
Sumita Rani of Bangladesh Jail grabbed her eighth gold in 100m hurdles at 14.1 seconds beating her nearest rival by a staggering 3.8 seconds. This timing was however 0.12 seconds adrift of her timing in the last SA Games where she finished second in photo finish. Sumita said she relaxed a bit since her main competitor Jesmin Akter was absent due to an injury and that was a reason for not clocking a faster time.
Beauty of BJMC proved her indomitable status with her sixth national gold in 200-metre sprint in 24.9 seconds beating her rival Shamsun Nahar Chumki of Ansar & VDP to second place at 25.2 seconds.
Men's 200m got a new champion in Khalilur Rahman of Bangladesh Army. He won with a timing of 21.9 seconds beating fellow sprinter Mizanur Rahman by 0.6 seconds. This was the first participation at the national level for Khalil after he had won gold in the summer meet last year. Khalil was confident he would win the 100m gold as well to be contested today.
Among the other winners, Fouzia Huda Jui of BKSP won gold in women's long jump as she covered 5.47 metres. Sergeant Azharul of Bangladesh Army won shot-put gold throwing 12.95 metres, Rowshan Ara Putul won gold in 800 metres clocking 2:26.20 seconds. Hazera Akter Dolly of BJMC won the women's shot-put throwing 10.18 metres, Afzal Hossain of Bangladesh Army won 400m hurdles at 53.1 seconds, Army's Mohammad Kamal won gold in javelin throw covering 58.73 metres. The women's 4X100-metre relay gold went to the Ansar & VDP quartet of Chumki, Khurshida, Shapla and Putul at a timing of 49 seconds. Men's 800m gold was won by Selim Mia of Bangladesh Army at 2:00.7 seconds, men's 5000m gold won by Shahin Alam of Bangladesh Army at 16:22.3 seconds, women's javelin throw gold won by BJMC's Akherun Nesa at 38.18 metres, women's 3000m was won by Rowshan Ara Putul of Ansar & VDP at 11:43.6 seconds, while men's long-jump gold went to Mohammad Al Amin of Bangladesh Navy at 7.22 metres.
Bangladesh Army led the medals tally with 5 gold, 5 silver and 3 bronze followed by BJMC in second with 3 gold, 5 silver and 3 bronze, and Ansar & VDP in third with 3 gold, 4 silver and 3 bronze.