Water crisis cripples life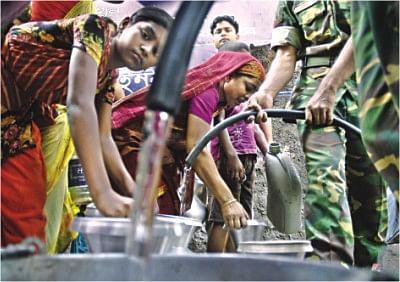 Persistent water crisis accompanied by random power outage has put the citizens of the capital into a real-life endurance test.
Kanchan, a resident of Uttar Para in West Kafrul, was yesterday seen in a long queue since 6:00am for a bucket of water from a Wasa lorry. Around 200 families of the locality are not having supply water for the last one week.
"Buying water from these lorries has become impractical because it takes Wasa three days to provide water if you pay for it today. There is a long queue they have to deal with first," said Kanchan, who finally managed to get two buckets of water after a five-hour wait.
Wasa has started distributing water in lorries twice a day from Wednesday, which is far too little to meet the demand of the area, said Kanchan, adding, "My family is going without bath for the last one week."
The situation at Gulshan-1 to Azad Mosque area is even more severe as they are going without supply water for the last 17 days. These days they are buying drinking water in jars.
"Since Wednesday, we are buying a lorry of water from Wasa for Tk 1,400 which is officially Tk 400. Still that is not getting us any near to having regular supply of water," said Ekram Kabir, a resident of road-29 in Gulshan-1.
He said they have been taking bath at offices, clubs or even at their relatives' houses in other areas.
While people are suffering like Kanchan and Ekram, many others, who are having a modest quantity of supply water, are complaining the supply water is stinky and filthy. In the blistering summer, the water crisis is just adding to the people's sufferings.
The severely affected areas in the capital include parts of Mirpur, Kazipara, West Kafrul, Sheorapara, Dhanmondi, Gulshan, Uttara, Purba Nakhalpara, Uttar Badda, Manda, Madartek and Shah Alibagh.
"We have no choice but to dig wells to survive this two-month-long crisis," said Arifur Rahman of Mirpur section-12 who actually started digging a well like others.
Another resident of Mirpur-12 Tito claimed that the pump of the area has been selling water in lorries while they could supply it through pipelines.
Operator of the pump Md Ali said the production of the pump has reduced to 2,600 litres per minute from 3,000 litres for the last two months. It remains inoperative for about 10 hours a day due to load shedding, as the generator is out of order, he added.
Wasa Managing Director Taqsem A Khan said load shedding is causing low water pressure in the pipelines due to which many pocket areas including some parts of Gulshan and Dhanmondi are facing water crisis.
"As an alternative, we are providing water to the affected areas in lorries," he said.
Wasa Deputy Managing Director (Operation and Maintenance) Liakat Ali said the army has been assisting Wasa distribute water in the crisis zones from Wednesday.
He said Wasa now has 295 generators for 546 pumps. A process of purchasing two hundred generators at a cost of around Tk 54 crore is underway.
Dual connections of electricity have already been given to 82 pumps in DPDC and DESCO areas to keep them running round the clock. Some 40 to 50 more pumps will soon be brought under the initiative, added Liakat.