Bangladesh gets first credit rating
Standard & Poor's assigns BB- with a stable outlook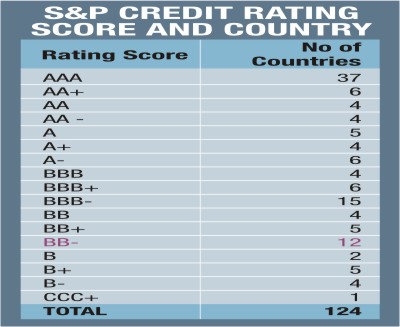 Bangladesh got its first sovereign credit rating yesterday, which the government expects will help the country in international transaction and attract more foreign investment.
The economic outlook is stable, US-based ratings agency Standard & Poor's (S&P) said in a statement after awarding Bangladesh a BB- for a long term.
With Bangladesh, S&P rated 124 sovereigns this year -- the country's position is below India but well over Pakistan and Sri Lanka in South Asia.
The position is more or less the same of some other emerging economies in Asia such as Philippines, Indonesia and Vietnam.
"We consider Bangladesh free from major macroeconomic imbalances despite severe fiscal constraints, a low-income economy and heavy development needs," S&P said.
"The stable outlook reflects our expectations that prudent macroeconomic policy-setting will prevail and microeconomic reforms to address growth constraints will continue," it said.
Globally reputed S&P has a total of 17 ratings categories ranging from AAA to CCC+, and Bangladesh was placed in the 13th category.
The government is happy with the rating, Finance Minister AMA Muhith said at a press conference in Dhaka yesterday. "More or less we are happy and it is a very good day for us."
Bangladesh Bank (BB) in 2006 assigned S&P and Moody's Investors Service, another US-based agency, to rate the country, which was also awarded a B for short term by S&P.
BB Deputy Governor Ziaul Hasan Siddiqui said there was no index in the past to weigh the country's economic risks, but after getting the rating the country will get lower interest rates in international borrowing, among other advantages.
Private sector will also be able to get loan from international sources at low interest, he said, adding that it will make export and import more cost effective.
BB Governor Dr Atiur Rahman said GDP growth, high foreign exchange reserve and good current account balance contributed to such a good credit rating.
It will give a signal to the foreign investors that the government is committed to development and reforms.
Sovereign credit ratings give investors insight into the level of risk linked with making investment in a particular country, and political risks there.
The minister said the rating agency has evaluated GDP (gross domestic product) growth of the last 10 years to give the rating.
The previous BNP-led four-party alliance and the immediate past caretaker government also had a role in getting a good rating, Muhith said.
"There had been a lot of reforms in microeconomy and macroeconomic management during the caretaker government."
He said the country got the rating despite having a very low tax-GDP ratio, serious energy crisis and low-income generation.
S&P's rating indicates a favourable comparison with the rest of South Asia, said an analysis by Citi, an international financial conglomerate.
"While public finances remain an area of concern, the outlook for further positive rating action appears bright," Citi said.
S&P said the ratings were also constrained by limited fiscal flexibility because of a weak revenue base and high infrastructure needs.
It attributed the poor tax-GDP ratio to low tax compliance, administrative weakness, untaxed agricultural sector, tax exemptions and tax holidays.
Other constraints on the ratings include the country's relatively high public and external debt, energy and infrastructure deficiencies and power outages.
S&P conducted the ratings after consulting development partners, leading nongovernmental organisations, National Board of Revenue, Economic Relations Division, Finance Division, trade bodies and political parties, among others.