133 more picked up
At least 60 injured as BCL, Shibir clash in Nilphamari; district Jamaat chief held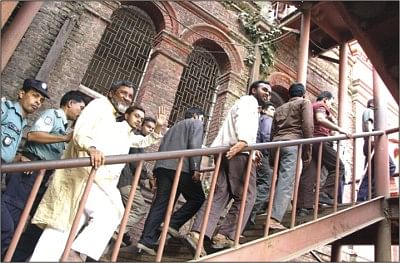 Police yesterday arrested at least 133 more cadres of Jamaat-e-Islami and its associated student organisation Islami Chhatra Shibir in the ongoing countrywide combing operation.
Sources in Dhaka Metropolitan Police said the law enforcers arrested 27 more Shibir activists in the capital. With this, the number of arrestees in Dhaka in the last two days has risen to 88.
In Chittagong University, the law enforcers picked up 24 Shibir men and recovered several books on jihad.
On information that Shibir cadres were gathering to create anarchy, police raided the Shibir-controlled cottages and rented houses on and around the campus from 1:00am to 4:00am.
"We raided over 30 cottages and arrested the cadres residing there," said Additional Superintendent of Police Babul Akhter of Hathazari circle. "We recovered over 50 books on jihad and a huge number of batons from their possession," Akhter said.
The Court of Judicial Magistrate Akhter Hossain sanctioned bail to Shibir cadre Masud Shahriar and sent the rest to jail.
In another development, a Chittagong court ordered two days' remand for 86 Jamaat-Shibir men in a case filed for attacking police, barring them from duties, and involving in destructive activities on Friday.
Meanwhile, State Minister for Home Shamsul Haque Tuku, who arrived in Chittagong Friday night for the wedding ceremony of his son, held a meeting with the Chittagong Metropolitan Police.
He said Shibir killed students in Rajshahi and Chittagong universities in an organised way to create unrest in the country.
Tuku asked the police to investigate the cases filed against the Jamaat and Shibir men and continue the drives against them.
In Nilphamari, district Jamaat Ameer Muzammel Haque along with 20 others was arrested yesterday, writes our correspondent from Nilphamari, where at least 60 people including 10 policemen were injured in a series of clashes between BCL and Shibir yesterday.
Witnesses say the clash ensued when Shibir attacked a protest procession of BCL in Ukilpara.
During the attack, at least 30 BCL men including its district general secretary Wadud Rahman were injured.
In Rajshahi city, 18 more Shibir men were arrested, while six others were held in Panchagarh early yesterday, reports our staff correspondent in Rajshahi.
Of them, 12 were produced before a Rajshahi court in connection with the killing at Rajshahi University on February 2.
Police recovered two bombs and a sharp weapon on the premises of Sher-e-Bangla Hall of the university.
In Kushtia, police arrested a Shibir activist at a students' mess in Talipara in Kushtia early in the morning, reports our Kushtia correspondent.
The police say they raided Firoza Villa, a Shibir-controlled student's mess, around 3:30am and arrested the man and seized some books on jihad.
The police held three Shibir men in Noakhali, where Jamaat-Shibir brought out a procession to protest against the arrests across the country.
Members of Bangladesh Chhatra League chased and dispersed the procession in Maizdee and beat up some of them. They were admitted to Noakhali General Hospital from where police detained the three apprehending a law and order slide, writes our Noakhali correspondent.
Police arrested seven Shibir activists at Jamilnagar of Bogra yesterday, adds our Bogra correspondent.
Officer in-Charge of Sadar police AKM Khalekuzzaman said a case has been filed against them on charge of committing crime.
Meanwhile in Gaibandha, police Friday night arrested 11 Jamaat-Shibir activists in Sadar and Palashbari upazilas, the district correspondent reports.
Police raided district Jamaat office Darul Aman Trust and recovered posters, leaflets and huge brick chips preserved as protective measures against BCL activists.
In Jessore, police arrested 36 Shibir men conducting separate raids in different areas of the town, our Jessore correspondent says.
Police also dispersed a protest procession brought out by Shibir against the countrywide crackdown on Shibir men. During the drive, the law enforcers also recovered iron rods and four bombs.
Meanwhile, the 29 Shibir men who were arrested at Jamaat office Friday night were sent to jail after they were hauled before a court in connection with rampage on MM College campus.
BCL memorandum
The BCL Chittagong University unit submitted a memorandum to Vice-chancellor Prof Dr Abu Yusuf yesterday to press home their seven-point demand.
The demands included arrest and exemplary punishment of Shibir cadres who killed BCL activist Mohiuddin, banning Shibir politics permanently, and removal of the policemen recruited during the BNP-Jamaat rule.
CU Probe body
CU authorities in a meeting Friday night formed a three-member committee to investigate the murder of political science student AAM Mohiuddin.
The committee headed by Prof Dr AF Imam Ali of sociology department was also asked to submit a probe report in seven days.
300 sued for assaulting cops
Sylhet Kotwali police Friday night started a case against 300 people including former lawmaker Jamaat's Moulana Farid Uddin Chowdhury, central Assistant secretary Shafiqur Rahman and Sylhet city Ameer Ehsanul Mahbub Zobayer in connection with chasing the police and clash between police and Jamaat-Shibir Friday afternoon.