Boi Mela thoughts
Hasan Azizul Huq, an icon of Bangla literature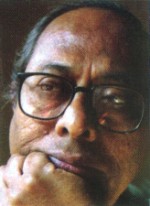 Hasan Azizul Huq is an eminent writer, essayist and researcher. He is reputed for his short stories and meticulous writings.
Huq said, "I always go to the book fair. Though it is difficult to see the books in an overcrowded atmosphere, many people come to the fair and the Bangla Academy premises take on a festive air. Over the years, the fair has become a part of our culture. I never write books with a view to display them at the book fair. Last year, my autobiography "Phire Jai, Phire Ashi" was published by Ittadi publication. This year a compiled work of my three novels has been brought out from the same publishing house.
"Good arrangement, cleanliness, law and order should be increased at the book fair. We should remember that the world of books helps us to go ahead."
Huq's short stories have presented the political, cultural and social lives of the people of Bangladesh. His novels explore the psychological depths of human beings as well as depict the lives of the peasants of Bangladesh.
Huq is well known for his experimentation with language and the introduction of modern expressions in his writings. His writings are unquestionably unique and thought provoking. His use of words and thought-process has earned him critical acclaim.