'Change in mindset a must to protect human rights'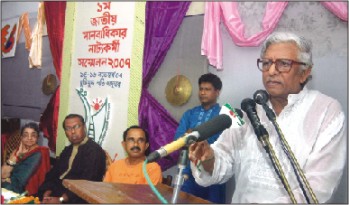 The Conference of Human Rights Drama Activists ended in the city yesterday with a call to change the people's mindset to protect human rights in the country.
The closing ceremony of the three-day conference, first of its kind in the country, was held at the Liberation War Museum.
The conference with the slogan 'Human rights come first before anything else' was organised by Manabadhikar Natya Parishad (Manap) with the support of Human Rights Awareness Unit of Ain O Salish Kendra.
Speaking as chief guest at the concluding session, journalist Kamal Lohani said a change in the mindset of people is a must after following such ideology that would help establish human rights in the society.
He urged all to work together for establishing human rights, rather than speaking only about it in public.
It will not be possible to establish human rights unless the conspiracy of imperialists and fundamentalists is revealed, he added.
Presiding over the ceremony, Hameeda Hossain, founder member of Ain O Salish Kendra, said drama is an effective tool to sensitising all strata of people irrespective of age and class.
She urged all to be more active in establishing equal rights of all people in the society, rather than attributing the responsibility to the government.
Hameeda cautioned that religion-based politics might turn into a 'violent mechanism' making it difficult to establish equal rights in the society.
Over 100 human rights drama activists from 13 districts including Sirajganj, Pabna, Kushtia, Naogaon, Joypurhat, Kishoreganj, Mymensingh, Faridpur and Dhaka participated in the conference.
Tarikuzzaman Sheikh Tarik, president of Sirajganj unit of Manap, read out the declaration of the conference.
The declaration contained a pledge to work together to raise public awareness about democracy, secularism, corruption and the trial of the war criminals.