710 blackout feared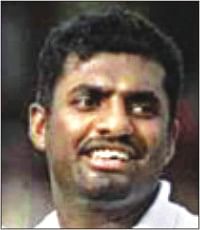 Sri Lanka fears missing out on hero Muttiah Muralidaran's feat of becoming the greatest ever wicket taker in Test cricket because of an ongoing dispute over media access.
Master spinner Muralidaran's needs just seven wickets to overtake retired Australian and fellow spinner Shane Warne's world record tally of 708.
Muralidaran's has the chance of entering the history books at the second Test against Australia starting on Friday in Hobart, a prospect that cricket-mad Sri Lankans are relishing.
But Australian cricket's governing body has imposed restrictions on coverage of the Australia-Sri Lanka series that locked global news agencies out of the opening Test in Brisbane.
The world's top three global news agencies -- Agence France-Presse, Reuters and Associated Press -- suspended all coverage of the 2007-08 cricket season, unless a deal can be agreed with Cricket Australia.
The blackout of photos, news reports, graphics and video has meant that many international cricket fans have been unable to see photos of their favourite team or read about the match's progress.
Sri Lankan newspaper editors are increasingly frustrated as Muralidaran's chances of passing the milestone draws near.
"It is very frustrating that we will not have any picture of Murali's record breaking achievement if he manages that in Hobart," said Daminda Wijesuriya, sports editor of mass-circulation Sinhalese daily the Lankadeepa.
The Sunday Times last week demonstrated its frustration by publishing a completely black figure of a batsman in action.
"This space is dedicated to a would-have-been action picture of the Test match in progress in Brisbane. The black figure is courtesy (of) Cricket Australia," the newspaper wrote.
With a history of controversy between Muralidaran's and Australia, some Sri Lankan media have even gone so far as to suspect Cricket Australia (CA) of deliberately orchestrating the timing of the dispute.
"We are particularly suspicious about its timing when Murali is near his record," said Channaka de Silva, sports editor of the English language Daily Mirror. "This could well be another of those Australian tactics to demean Sri Lankan cricketers," he said.
Muralidaran's has been dogged by allegations in his career that his unusual bowling action contravenes cricket laws. He has been no-balled by several Australian umpires, and he boycotted Sri Lanka's 2004 tour of Australia after earlier receiving a hostile reception from sections of the crowd.
Ranjan Paranavithana, sports editor of Sinhalese daily Lakbima, said governing body Sri Lanka Cricket should have taken up the dispute with its Australian counterpart CA.
"It is an issue affecting all of us so the SLC has reason to protest," Paranavithana said.
SLC Secretary Kangadaran Mathivanan said they were hoping for a response from CA chief executive James Sutherland after appealing for an end to the blackout.
The three media agencies say the dispute centres on unprecedented demands by CA, including that they hand over rights to all photos taken at matches.
The conditions imposed on photographers and journalists applying for credentials to cover cricket raise grave concerns about press freedom, the agencies say.