Ziaur Rahman involved in incidents of Aug 15
Lt Col (retd) Mohiuddin Ahmed said in court statement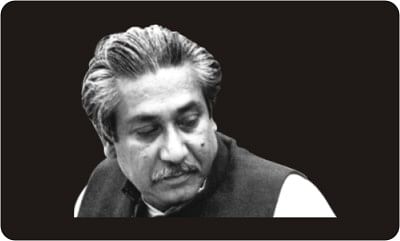 Bangabandhu murder convict Lt Col (retd) Mohiuddin Ahmed in his confessional statement said Maj Gen Ziaur Rahman was involved in the incidents of August 15, 1975 in which Bangabandhu and most of his family members were assassinated.
Mohiuddin made the statement before the then additional chief metropolitan magistrate Md Habibur Rahman on November 27, 1996.
Barrister Abdullah-al Mamun, counsel for convicts Bazlul Huda and AKM Mohiuddin, yesterday placed the statement of Mohiuddin Ahmed before the Supreme Court. He was delivering his submission during the fourth day's hearing on appeals of five convicts who challenged their death sentences in the case.
According to Mohiuddin's statement, a wholesale discontent was growing within the army at that time and a rebellion was imminent. Convicts Syed Faruque Rahman and Sultan Shahriar Rashid Khan were keeping in touch with the then army chief of staff Ziaur Rahman to tackle the situation, but Zia expressed his inability.
There was a revolt against the command council at Bangabhaban. Mohiuddin said he heard that the majors who used to stay at Bangabhaban left the country with their families on November 3, 1975. The next day he heard that the Awami League leaders who had been in jail were killed before their departure.
Mohiuddin said he and some troops rescued Ziaur Rahman from his house and declared him chief martial law administrator on November 6 and on assuming power Zia absorbed the majors sent abroad in diplomatic missions. However, Major Rashid and Major Faruque refused to accept such service.
Mohiuddin said on returning to Bangladesh in 1976 Major Faruque took over the command of Bengal Cavalry at Savar and Bogra. But General Zia brought him back and sent him abroad without any punishment.
In the meantime, Major Abdur Rashid and Major Shariful Haque Dalim tried to take over the command and control of 2 Field Artillery at Dhaka Cantonment and instigated troops to revolt, he said, adding that he arrested Major Rashid and handed him over to General Zia and CGS Mir Shawkat. Zia sent Rashid abroad three-four days later without taking any action against him.
During his submission yesterday, barrister Mamun also placed the confessional statements of two other convicts Lt Col (retd) Syed Faruque Rahman and Lt Col (retd) Sultan Shahriar Rashid Khan.
The High Court judgment in the Bangabandhu assassination case delivered by Justice ABM Khairul Haque contained the statements.
According to their statements, convicts Faruque, Lt Col (retd) Khondker Abdur Rashid and Lt Col (retd) Shariful Haque Dalim held a few meetings with Ziaur Rahman and Khandaker Mushtaq Ahmed before August 15, 1975.
Zia told them that they should do something in the interest of the country. He even assured them of extending support if they killed the then president Sheikh Mujibur Rahman, the statements said.
The five-member bench of the Appellate Division, headed by Justice Md Tafazzul Islam, yesterday adjourned the hearing until 9:30am, October 11.
At the beginning of yesterday's hearing, the court reprimanded Abdullah-al Mamun for making a "distorted statement" to the daily Inqilab about the ongoing proceedings of the case that the trial court had incriminated Mohiuddin not for his involvement in the incidents of August 15, 1975, but only for his presence in the parade ground. The court asked him to explain the matter.
As Mamun could not give a satisfactory answer, the court asked him to send the newspaper a rejoinder.
Attorney General Mahbubey Alam informed the court that similar news was also aired by a few television channels.