NETWORKING THE WORLD THROUGH IDEAS
NETWORKING THE WORLD THROUGH IDEAS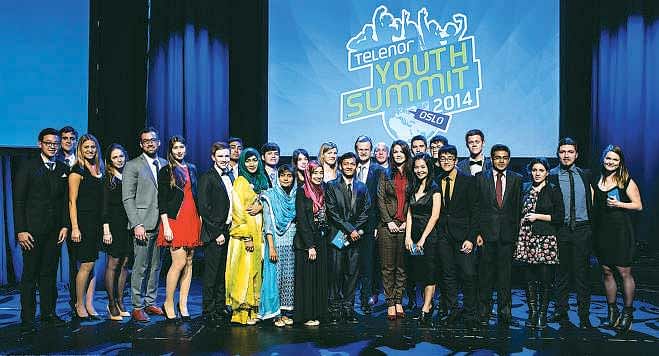 In a world inhabited by "digital natives", no man/woman is an island. What we consider as "local/regional" problems are not random, isolated occurrences. In other words, an issue might originate somewhere and the solution may very well come from somewhere else.
To better understand how young individuals interpret this interconnectivity and how they use this to bring about social change, one of the world's major mobile operators (with 179 million subscriptions), Telenor Group hosted a three-day summit at its headquarters in Fornebu, Norway. Starting from December 9, Telenor Youth Summit 2014 challenged 27 aspiring changemakers from 14 countries to demonstrate how digital communication can improve lives, fuel inclusive growth and promote cross-border dialogue. Over the course of the summit, the participants – including Ashrarul Haq Sifat and Nowshin Mehzabin Chowdhury from Bangladesh – pitched and refined ideas that could have impacts on their countries and around the world.
Back-story
This was the 2nd instalment of the program, and around 2,000 socially active digital natives applied to take part in the summit; individuals (18-25 years) in Telenor Group's markets across Asia and Europe were eligible to participate. Through an extensive process, involving universities, partner institutions and organisations, selection panels in the 14 countries decided who will represent them at the global summit.
Bangladesh at the Summit
Ashrarul, studying Electrical and Electronics Engineering at BUET, and Nowshin, studying at NSU, got their tickets to Oslo after winning the Bangladesh chapter of the summit – organised by Grameenphone – last month.
The Indian, Malaysian, Serbian and Bangladeshi contingents also included media personnel. Sayed Talat Kamal, Head of External Communications, Grameenphone accompanied the Bangladeshi team.
At the summit, Nowshin pitched her idea: "First Lady: Ensuring a safe society for women" – a mobile app that would work against gender violence. Her app would require women to register with their personal data and location, through which a regular dialogue between the user and the local authority/network service provider would be initiated. Failure to communicate would result in the helpline service calling the user to get assurance of her current situation. The app would also be able to send out a distress signal to the local authority.
Ashrarul's idea, called "Digital Maduli: Keeping kids safe near water", deals with drowning, the third leading cause of unintentional injury-related death worldwide. Children with increased access to water – particularly in rural Bangladesh and across South and Southeast Asia – are most at risk of drowning. Based on a geographical information system and a low-cost wearable monitoring device with SIM card integration, the Digital Maduli would send signals to the parents and local rescuers with directions to the victim's location.
Getting Inspired and Making Connections
Young delegates from Myanmar, Denmark, Bangladesh, Thailand, Malaysia, Serbia, Russia, Sweden, Montenegro, India, Norway, Hungary, Bulgaria and Pakistan presented their ideas – covering education, healthcare, public service, gender violence, safe internet, finance etc. – to and inspired Jon Fredrik Baksaas, President and CEO of Telenor Group; Bente Erichsen, Executive Director, Nobel Peace Centre in Oslo; Ola Jo Tandre, Director, Sustainability and Head of Social Responsibility, Telenor Group (who also led the program and MC'd throughout the summit) and HRH Haakon Magnus, Crown Prince of Norway, among several other dignitaries. Most importantly though, they inspired each other and alliances were formed. For instance, both Bangladeshi participants expressed their interest in working with Jyotsna Kalra, a Law student of Vivekananda Institute of Professional Studies, India. Jyotsna's idea involves a mobile app to address sexual harassment and abuse in public spaces; the app would allow people to report cases of harassment, mark out hotspots prone to crime, send out alerts, give tips and receive interactive information.
One particular idea that made a deep impact on this writer, and several others attending the sessions, came from Daniel Šaranović, a Mathematics student at the University of Belgrade, Serbia. Daniel's idea, called "Sonochrome", is to develop a mobile app that would enable the visually impaired to experience images and  colours through the use of songs and notes. He called it "Instagram for the Blind."
Inspiration and guidance also came from the speeches delivered throughout the summit.
On the first day of the summit, the CEO of Telenor Group explained how through innovative missions, values, codes of conduct and leadership attitude, mobile and digital technology can bring about positive change in societies and empower them. He then persuaded the participants to consider what would be the most important priority in 2015 – to maximise this potential of digital technology.
Asked what the specific objective of the summit was, Baksaas responded: "In the broader sense, this initiative aims to create expectations, which is a prerequisite to growth. Our top priority is to listen to and learn from these young participants how mobile technology and digital communication can enable socioeconomic change and provide opportunities for all."
Over the course of three days at the summit, participants were put into groups, and each group worked on a particular idea pitched by one of the team-members. They attended workshops on "How to realise you idea" (by Telenor Digital); sessions on "Ideas for Sustainable Development" (featuring Carolynne Schloeder, Director of Mobile Partnerships, Wikimedia Foundation, USA and Bernt G. Apeland, Executive Director, UNICEF Norway) and "Big Data for Social Good" (by Telenor Research and Sustainability). There was also a panel discussion on "Internet for All = Opportunities for All. How financial services and access to education helps drive inclusion and growth" (with Nadeem Hussain, President and CEO, Tameer Microfinance Bank, Pakistan and Rishad Premji, Chief Strategy Officer, Wipro Limited, India). The participants got the opportunity to fine-tune their ideas and learn how to scale up, so that their concepts could reach a wider population.
Free Knowledge
During her speech, Schloeder, Director of Mobile Partnerships, Wikimedia Foundation, pointed out that 60 percent of the global population still don't have internet. She stressed on the need for free access to information and spoke about Wikipedia Zero – a project by the Wikimedia Foundation to provide Wikipedia free of charge on mobile phones, particularly in developing markets. In Bangladesh, Wikipedia Zero is available to Grameenphone and Banglalink users.  
Asked how Wikipedia ensures accuracy of content, since anyone can edit pages they are looking at, Schloeder said, "The local Wikipedia communities (of contributors) are in charge of editing inaccuracies and self-promotion."
"Currently the Bengali Wikipedia (West Bengal and Bangladesh) has around 40,000 articles and Wikimedia Bangladesh is very active," she added.
The Nobel Connection
The most memorable part of the three-day event was, arguably, watching the Nobel Peace Prize Award Ceremony live (on screen) at the Nobel Peace Centre in Oslo. The ceremony was held just across the street, at Oslo City Hall.
You may or may not agree that this year's laureates were the best choices for the Nobel Peace Prize but it was impossible to remain unmoved when Kailash Satyarthi said, "You and I live in the age of rapid globalisation. We are connected through high-speed internet. We exchange goods and services in a single global market... but there is one serious disconnect. It is the lack of compassion. Let us inculcate and transform the individuals' compassion into a global movement. Let us globalise compassion. Not passive compassion, but transformative compassion that leads to justice, equality, and freedom." or when Malala Yousafzai said, "Though I appear as one girl, who is 5 feet 2 inches tall, if you include my high heels (it means I am 5 feet only), I am not a lone voice, I am many. I am those 66 million girls who are deprived of education. And today I am not raising my voice; it is the voice of those 66 million girls."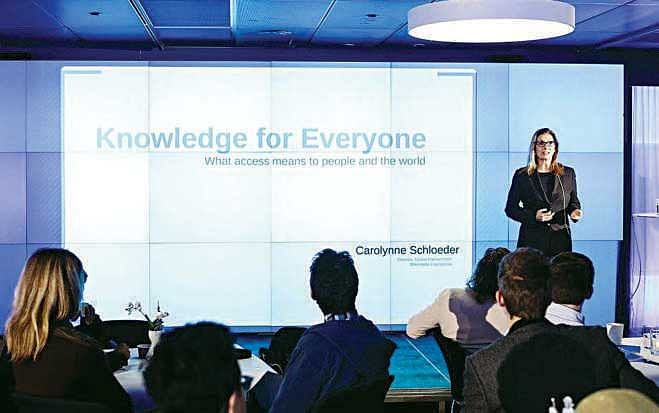 The participants and media personnel had the opportunity to attend the CNN interview with the laureates at the City Hall.
This opportunity materialised thanks to Telenor being a main sponsor of the Nobel Peace Centre. The Nobel Peace Centre reciprocated with close collaboration in organising Telenor Youth Summit. At a workshop, the Peace Centre also engaged the participants in a discussion on how digital communication can be used to reach the youth worldwide and generate interest in the Peace Prize, its values and ideals.