Budget session begins at JS with Covid-19 preventive measures in place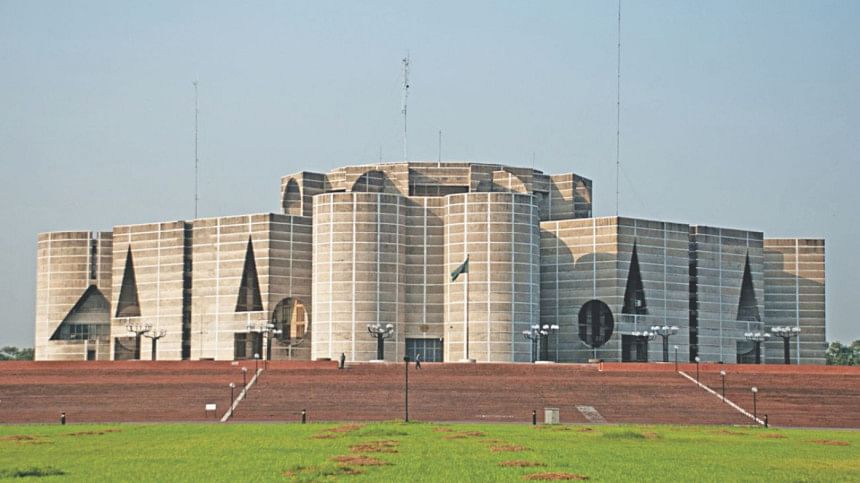 The budget session for 2020-21 fiscal year began at Jatiya Sangsad Bhaban this afternoon amid the coronavirus pandemic in the country.
This is the eighth session of the 11th parliament and also its second budget session.
The sitting of the House began at 5:00pm with Speaker Shirin Sharmin Chaudhury in the chair.
Several measures have been taken to curb the risk of Covid-19 infection during the budget session of the parliament.
MPs are taking part in the session wearing masks and gloves while maintaining social distance.
At the beginning of the session, the speaker said, "This session will be conducted in compliance with all health guidelines."
Parliament has taken various health safety measures during the budget session. Apart from the budget related officials and employees of the Parliament Secretariat, others have been barred from coming to the parliament.
Media personnel are not being allowed to cover the session. Instead they have been requested to cover the session through live telecast on Sangsad TV.
As per the recommendation of the Special Security Forces in charge of the security of President Abdul Hamid and Prime Minister Sheikh Hasina, most of the officers and employees working in the parliament session have been tested for Covid-19.
Of them, 43 people were found infected with Covid-19.
Physically ill and elderly MPs were discouraged from attending the session. MPs who have recovered from the coronavirus have also been discouraged from attending the session.
Several seats close to PM have been left vacant.
The decision to ensure the presence of 80 to 90 MPs every day was followed on the first day.
At the beginning of the House proceeding, the speaker nominated a five-member panel of chairmen who will preside over sittings of the House in the absence of the speaker and deputy speaker.
The panel members are: AL lawmakers -- Muhammad Faruk Khan, AB Tajul Islam, Muhibur Rahman Manik, and Meher Afroze Chumki -- and Jatiya Party MP Kazi Firoz Rashid.
Finance Minister AHM Mustafa Kamal will place the budget for 2020-21 fiscal tomorrow. This will also be the second budget presented by Kamal.
Today, Law Minister Anisul Haq presented three ordinances shortly after beginning of the House sitting. The ordinances are: Use of Information Technology by the Court, Value Added Tax and Supplementary Duty (Amendment) Ordinance 2020, and Income Tax Amendment (Ordinance) 2020.
Later, the speaker placed a condolence motion in parliament commemorating those who died in between the last and the beginning of this session.
A condolence motion has been tabled in parliament for AL MP Habibur Rahman Mollah from Dhaka-5 who died on May 6.
Today's sitting will be adjourned following adaptation of the obituary motion.