3 NGOs barred from relief works for Rohingyas
Says a parliamentary body member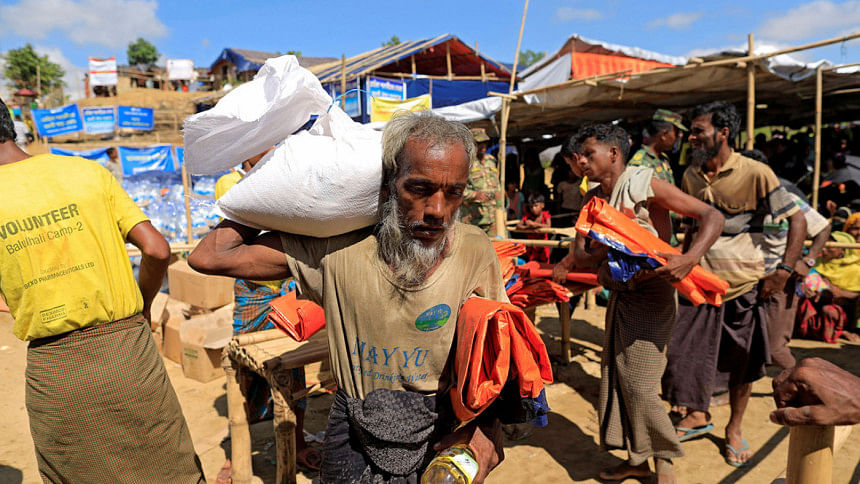 The government imposed ban on three non-government organizations (NGOs) from carrying out relief operation in refugee camps for their alleged involvement in misguiding Rohingyas during their works, a parliamentary body member has said.
"The foreign ministry officials informed us that the government imposed ban on Islamic Relief, Muslim Aid and Fazlullah Foundation as they were found involved in misguiding Rohingya refugees during their relief activities," Lawmaker Mahjabeen Khaled, a member of parliamentary standing committee on foreign affairs, told The Daily Star today.
The parliamentary body called upon the government to keep vigilance on different NGOs so that they cannot lure religious minded and poor Rohingya refugees into involving militancy or any subversive activities.
Awami League MP Mahjabeen said the committee was informed that without taking permission properly from the NGO Affairs Bureau, the three NGOs were involved in carrying out religious activities among the Rohingyas which they cannot do.
The Daily Star however could not independently verify about the claim.
"The Rohingya refugees have got shelter, food and accommodation in Bangladesh. Any vested quarter can provoke them to take revenge for their present miserable and distressed condition. That's why we have suggested to keep vigilance on everyone operating in Cox's Bazar," Faruk Khan, another AL MP and a member of the committee, said.
"The committee also asked the concerned authorities to remain careful in this regard," added Faruk Khan.